The Elegant and Organic Shenzhen Spotlighting LED Light Bulb Provides Smart Lighting and Healthy Living Solutions
Press Release
-
updated: Oct 28, 2019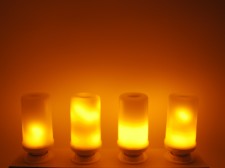 SHENZHEN, China, October 28, 2019 (Newswire.com) - Shenzhen City Spotlighting is a professional brand in the industry offering a wide range of LED lighting products such as light bulbs, spotlights, sensor light bulbs, and strip lights. It provides a variety of products in different categories, which have been manufactured to cater to the needs of a diverse customer portfolio in different parts of the world. The primary aim of Shenzhen Spotlighting is to manufacture products that provide high value in terms of smart lighting and healthy living to customers through its efficient design and advanced manufacturing processes. 
The LED light bulbs provide efficient lighting solutions since they provide perfect light quality while utilizing minimum energy during the process. LED lights are 90% more energy-efficient and 15% brighter, as compared to traditional lights, and provide greater value to the customers in terms of lighting solutions while reducing their budget requirements simultaneously. The cost-benefits of the LED lights can be significantly high since they are used routinely for a longer period. Shenzhen Spotlighting has launched its "Energy Saving Series" of LED light bulbs, which contains scores of models providing a variety of solutions and energy-saving opportunities to users. Energy-saving products of Shenzhen Spotlighting have various environmental benefits since they reduce the demand for energy, as compared to traditional lights, and they do not release any toxic elements in the atmosphere, ensuring a healthy environment in the building. The LED light bulbs have a longer life span as compared to traditional lights, which is instrumental in reducing the strain on the environment.
Shenzhen Spotlighting has released its smart series of LED lights, having scores of intelligently designed products. The LED light bulbs in this series are available in different shapes and sizes, which increase their usability and enable customers to acquire the most appropriate products, depending on their requirements. The smart LED products can be used in residential buildings for lighting and decoration purposes while their use is common for advanced lighting solutions in commercial environments. The LED light bulbs provide a high-quality white light, which ensures a warm and cozy environment in the building while they are also capable of producing vibrant and distinct colors, as per the properties of LEDs. 
Shenzhen Spotlighting products are reliable, as they are manufactured using standard quality materials such as aluminum, which is capable of ensuring long life and consistent performance of the LED lighting products. Similarly, standard quality LEDs are used in products having consistent output, due to which they are able to produce a consistent light spectrum over a longer period. The LED lights are also lightweight and provide a great convenience in installation, while they can also be easily replaced in case maintenance of the product is required or new lighting products need to be installed.
For further information, please contact:
Contact Person: Michael Yue​
Email: manager@szspotlighting.com
Tel: 0086-755-27807069
Website: https://szspotlighting.com
Source: Shenzhen Spotlighting
Share:
---
Categories: Lamps and Lighting
Tags: LED Bulbs, LED Flame Bulb, LED Light Bulbs, LED Lighting, LED Lighting Products, LED Lights, LED Spotlight, Light Bulbs, Sensor Light Bulbs, Strip Lights
---