The CIM ME500 Metal Tag Embosser Is Now Available With 2D Data Matrix Barcode Capability
Press Release
•
Aug 3, 2016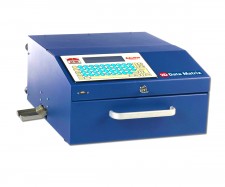 Miami, Florida, August 3, 2016 (Newswire.com) - Product traceability and accountability has become a default requirement for most industrial manufacturing companies. Today most products are labeled and identified and CIM is the #1 provider of industrial labeling solutions based on durable embossed or indented metal tags. CIM offers metal tag marking solutions and supplies for small to large multi-national manufacturing companies all over the world.
The ME500 DM is the latest machine in CIM's product portfolio that is now offered with the capability to emboss a raised 2D data matrix barcode in addition to human readable alpha-numeric information.
The ME500 DM is a compact, portable and self-contained fully automatic tag marking solution designed for harsh operating environments and a long service life. The unit can handle a variety of tag dimensions as well as different tag materials such as stainless steel, aluminum and more.
The raised 2D data matrix barcode that is embossed by the ME500 DM can contain alpha-numeric data. The 2D barcode can then be read using a dedicated 2D scanner or commonly available barcode applications that can be installed on smart devices. The 2D barcode technology offers unsurpassed error correction and a lends itself very well to demanding industrial labeling environments.
The use of 2D data matrix barcode is growing. The technology is adopted by the military and the electronics industry and is used in component manufacturing and product ID. It offers seamless traceability of single parts and processes.
Besides the ME500 DM metal tag embosser, CIM offers a full suite of software solutions for traceability applications, supplies such as tags, tag attachments and accessories.
For more information, please visit www.cim-usa.com.
Source: CIM USA