CIM Launches the ML2000, a Fully Integrated LASER MARKING SYSTEM for Metal Tags
Press Release
•
updated: Jan 25, 2017
A high definition, crisp laser mark with excellent contrast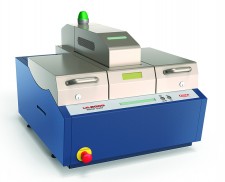 Miami, FL, January 25, 2017 (Newswire.com) - The ML2000 incorporates proven DPSS laser technology and allows you to quickly mark metal tags of various materials and dimensions.
The ML2000 is fully automatic and is equipped with an input hopper that can contain up to 250 tags. The blank tags are automatically moved from the hopper area to the laser marking module. When the laser marking process is complete, the tags are placed in an optional internal FIFO stacker or unloaded using the side eject option.
The ML2000 is a high-quality solution ideal for permanent marking of serial numbers, technical data, Data Matrix codes, QR codes, 1D barcodes, as well as images and logos on metal tags.
Managing the data is very easy; simply upload data from an Excel sheet and link it to the tag layout.
The ML2000 is a compact, fast and secure permanent marking solution for applications in the automotive, industrial component, healthcare, electronics segments, and just about anywhere where identification and traceability is required.
The ML2000 offers notable advantages compared to other industrial marking systems, not to mention that the laser marking method is gaining in popularity over other legacy industrial marking methods.
Why choose the ML2000? Why choose laser marking technology?
· Indelible and long lasting marking created by the laser source is irreversible and cannot be removed, the laser mark becomes part of the material surface
· Low Noise the laser marking process is very quiet
· Extremely Precise Precise movements allow for excellent graphic reproduction when marking geometric shapes, barcodes and text
· Rugged The fiber based optical and rugged mechanical designs allows the ML2000 to operate in harsh environments with maximum uptime
· Easy to use The ML2000's user interface is easy to use. Supports standard graphic programs and facilitates design creation
· Reliable and affordable The ML2000 is a synonym for the CIM quality, reliability and performance. It allows to execute complex tag laser marking jobs quickly and with ease
Click here to learn more...
Source: CIM USA Inc.