The 'Bandit' Runs for Charity on Sunday, Nov. 11
Press Release
•
updated: Oct 23, 2018
World Run Day invites Bare, Beer, & Bandit Runners on The Day for Running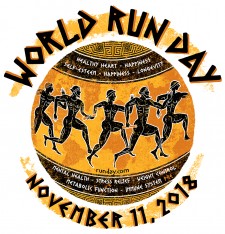 LONG BEACH, N.Y., October 23, 2018 (Newswire.com) - ​The "Bandit" is finally coming out on World Run Day, this November 11! So too are the Naked Runners, The Hash House Harriers, and all types of fleet-footed Charity Runners.
Every runner on the planet is invited to run in order to A. celebrate the history of running, B. run their favorite course, and C. send a donation to their charity of choice. Since 1999, the event is considered to be the first "Global Fitness & Charity Challenge" – now offering a 25% discount for early registration with code GORUN for INTERNATIONAL Runners and GORUN2 for USA Runners.
The 'Bandit' is finally coming out on World Run Day, this November 11!

Bill McDermott, World Run Day Event Director
ALL RUNNERS – including the many infamous "sub-cultures," are invited to participate. Even the notorious Bandit Runner, who's usually "run-down" at other running events for wearing a fake runner's bib, is certainly welcome. The www.runday.com website campaign this year highlights The Power of Runners Worldwide. Its sample listing of prior participants, a countdown to event day, details surrounding its 2018 T-shirt design, and its event shirt gallery are well documented.
Registered runners will be rewarded with a personalized artifact. They may choose 1. Event T-shirt which includes one's last name on the back, 2. Event Tyvek Bib with the last name on the front, or 3. Event Downloadable Bib (e-Bib) with the last name on the front. Even non-registered runners will qualify for the free World Run Day Bandit Bib! It may sound outlandish, but it's all part of a unique global event to provide charitable contributions to charities in need. Each runner will decide where 100% of their donation lands - once it's mailed directly to their charity. This year, in certain locales, Veterans Day (USA), Remembrance Day (UK), and others will be highlighted.
Virtual Running had its earliest beginnings (last century) by World Run Day, created by runner Bill McDermott in its 1999 debut. It blossomed slowly into a boutique running event - now in its 20th year. Since coining the term, nearly every large running event now has a "Virtual" component as an add-on. For some runners, it's a chance to be a part of something that is close to their heart and on a global scale. World Run Day continues to fill that gap and will be releasing it's unique 2019 Virtual Running Events calendar after its annual event.
The organization has a brand new website, with inspirational reasons to run, a world-class symbolic t-shirt, and an assortment of bibs (even one for "Bandit Runners"). This year we plan to re-emphasize the history of running and also annotate the benefits of running – even in our t-shirt design, says Bill McDermott, Event Coordinator. In addition to his historic 28 mile run home on 9/11, his "rejected" Survivor audition video, and other stories that show his passion for the sport, McDermott has created a Press Area with images and event history chronicled as best he can.
About World Run Day
The World Run Day Event was the first "Virtual Running" event in the world. Originally started as the brainchild of competitive runner Bill McDermott, the event has been recognized by over 10,000 runners internationally. World Run Day is funded entirely by McDermott and has runners as its only sponsor(s). Runners of all abilities are represented. There are no qualifying times nor is there a single course that is to be run. Nor is there a specific time of day designated to run. Just run on November 11, World Run Day (in each runners time zone). This is the signature event of World Run Day and occurs on the Sunday closest to November 8 every year. The day originally started as an anniversary tribute to Bill's brother who died in a car accident Nov 8, 1984.
World Run Day caters to the runners who are passionate about the sport and voluntarily donate their hard-earned money to charities across the world. The 20th running of World Run Day occurs on November 11, 2018. To learn more, visit www.runday.com.
Media Contact:
Bill McDermott
Phone: 917.626.9623 (USA)
Email: bill@runday.com
Source: World Run Day
Related Media