Runners Celebrate Their Sport Worldwide on Nov. 11
Press Release
•
updated: Nov 7, 2018
World Run Day Pays Homage to Running and Charity in Annual 'Run-Your-Own-Race' Virtual Run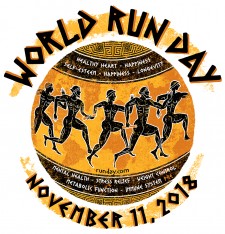 NEW YORK, November 7, 2018 (Newswire.com) - Every runner on the planet is invited to run on World Run Day, Nov. 11, 2018. The event is intended to attract the most passionate runners on the globe with its virtual celebration of running. Runners run a distance of their choosing and donate to a charity of their choosing. "'Let the runner decide' was my mantra," explains World Run Day founder and 1999-2018 Event Director Bill McDermott of the United States.
The World Run Day website – www.runday.com – emphatically labels its celebratory theme "THE POWER OF RUNNERS WORLDWIDE." That's precisely what happens when runners run "virtually" together – whether in New York, California, London or even The Philippines – and make donations to their favorite local charities.
Every runner on the planet is invited to run.

Bill McDermott, World Run Day Event Director
The World Run Day event is unlike any event in a number of ways: No sponsors have come forward to fund it (its runners serve as sponsors), participants have their name printed on the shirt and bib, and a Google map pinpoints their location. Even an "e-bib" (electronic bib) can be downloaded, exclaims McDermott, the self-proclaimed father of Virtual Running. To accommodate the needs of these runners, they can run on a treadmill, on the beach, in a race or just about anywhere.
This Global Fitness & Charity Challenge is now offering a 25 percent discount for registration with code GORUN for INTERNATIONAL Runners and GORUN2 for USA Runners. It may be too late to get their shirts on time but the event promises to continue putting names on the back of the event shirt if registered before 11:59:59 on World Run Day.
The organization has a brand new website, with inspirational reasons to run, a world-class symbolic t-shirt and an assortment of bibs (even one for "Bandit Runners"). "This year, we plan to re-emphasize the history of running and also annotate the benefits of running in our t-shirt design," says McDermott. In addition to his historic 28-mile run home on 9/11, his "rejected" "Survivor" audition video and other stories that show his passion for the sport, McDermott has created a press area with images and event history chronicled as best he can.
About World Run Day
The World Run Day Event was the first "Virtual Running" event in the world. Originally started as the brainchild of competitive runner Bill McDermott, the event has been recognized by over 10,000 runners internationally. World Run Day is funded entirely by McDermott and has runners as its only sponsor(s). Runners of all abilities are represented. This is the signature event of World Run Day and occurs on the Sunday closest to Nov. 8 every year. The day originally started as an anniversary tribute to Bill's brother, who died in a car accident Nov. 8, 1984.
World Run Day caters to the runners who are passionate about the sport and voluntarily donate their hard-earned money to charities across the world. The 20th running of World Run Day occurs on Nov. 11, 2018. To learn more, visit https://www.runday.com.
Media Contact:
Bill McDermott
Phone: 917.626.9623 (USA)
Email: bill@runday.com
Source: World Run Day
Related Media