The Arnold Sports Festival, the World's Largest Multi-Sport Exhibition, and CBD Today Partner to Produce First-Ever 'Arnold CBD Experience', March 5-9, in Columbus, Ohio
On March 5-9, in Columbus, Ohio, CBD Today and the Arnold Sports Festival will team up to produce the Arnold CBD Experience
Press Release
-
updated: Oct 1, 2019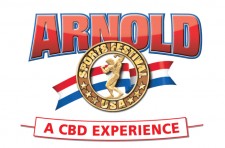 COLUMBUS, Ohio, October 1, 2019 (Newswire.com) - CBD Today (cbdtoday.com) is proud to announce its partnership with Arnold Sports Festival, the world's largest multi-sport festival and exhibition, connecting athletes from all over the world.
On March 5-9 in Columbus, Ohio, CBD Today and the Arnold Sports Festival will team up to produce the Arnold CBD Experience. The unique event will feature a full spectrum of leading CBD product company exhibitors and CBD-infused products geared for athletes and consumers, as well as global wellness and sports markets.
"Competitive sports have always been a driving force behind the health and wellness industry, and the expansion of the new Arnold CBD Experience is both relevant, and of high interest, to all competitive athletes," said CBD Today publisher Darren Roberts.
Former Mr. Universe, California "Governator" and actor Arnold Schwarzenegger founded the internationally renowned festival in 1989.
The Arnold Sports Festival and EXPO annually attract over 200,000 sports and fitness fans to watch more than 22,000 athletes compete in 80 sports and events, including 16 Olympic events and the Arnold Pro Strongman World Championship. Events will be held at the Greater Columbus Convention Center in downtown Columbus, the Ohio Expo Center, and various other Central Ohio venues, from March 5-8, 2020.
There is overwhelming consumer interest in CBD products, especially in the benefits of hemp-based treatments to affect inflammation, pain relief, mental stress and endurance. The Arnold CBD Experience will be a must-attend event for vendors, media, and consumers from around the world who are interested in sports, overall health and wellness, and advanced sports medicine technology.
Advance priority reservations are now being accepted: https://www.cbdtoday.com/advanced-registration-now-open-for-the-arnold-sports-festival-cbd-experience/
More info: https://www.cbdtoday.com/arnold-sports-festival-and-cbd-today-to-produce-arnold-cbd-experience/
About CBD Today: CBD Today is the leading trade media platform for the CBD and hemp industry, providing Health & Wellness retailers, buyers, and marketers with the business intelligence, trends, and vital data required to make informed purchasing decisions. Visit cbdtoday.com.
About The Arnold Sports Festival: The Arnold Sports Festival is the largest series of multi-sport festivals in the world with events in the United States, Australia, South America, South Africa and Europe. The Arnold Sports Festival USA was founded in 1989 in Columbus, Ohio by Gov. Arnold Schwarzenegger and businessman James J. Lorimer. The Arnold Sports Festival features more than 20,000 athletes competing in more than 80 sports and events, including the Arnold Fitness EXPO, with an attendance of more than 200,000. The Arnold Sports Festival is produced by Classic Productions of Worthington, Ohio. Visit www.arnoldsportsfestival.com for more information.
#   #   #  #
Media Contact: Handsonpr@aol.com and 323.788.0741
Source: The Arnold Sports Festival
Share:
---
Categories: Business to Business
Tags: Arnold Schwarzenegger, Arnold Sports Festival, cannabidiol, CBD, CBD Experience at The Arnold Sports Festival, CBD Health Trend, CBD Today Magazine, Fitness, Fitness Supplements, The Arnold
---