The American Youth Symphony Opens Its 18/19 Season at Royce Hall on September 22nd
Press Release
•
updated: Sep 6, 2018
Music Director Carlos Izcaray leads the American Youth Symphony in a free concert -- The opening performance of the orchestra's 2018/19 Season, dubbed "The Year of the Woman"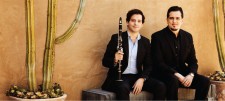 Los Angeles, CA, September 6, 2018 (Newswire.com) - ​​The American Youth Symphony (AYS) opens its 54th season at UCLA's Royce Hall on Saturday, September 22, at 7 p.m. with program including Rachmaninoff's Symphony No. 3; Joan Tower's Tambor; and John Corigliano's Clarinet Concerto. Tickets are free and seating is limited. Reserve now!
Inspired by the global movement for recognition of female artists, creators, and leaders, AYS and Maestro Izcaray have chosen to dedicate the 2018/19 season to celebrating the tremendous talent and vision of female composers and soloists at the top of their game. From Pulitzer Prize-winning composer, Jennifer Higdon, to global sensation violinist, Sarah Chang, every woman featured is a titan in the field!
"The finest youth symphony on earth!"

Jim Svejda, KUSC
The opening night concert begins with Tambor by Joan Tower, widely considered one of the most prominent living American composers. For over 50 years, Tower has worked as a creator, performer, and educator, paving the way for generations of women. AYS is proud to be on the industry's leading edge in the conversation surrounding female representation and diversity in classical music, and thrilled to open the 2018/19 "Year of the Woman" with this much-celebrated, show-stopping work.
Led by Music Director, Carlos Izcaray, the concert also features a showcase performance from 2018 AYS Concerto Competition winner, Sérgio Coelho, of John Corigliano's Clarinet Concerto. Rachmaninoff's groundbreaking third symphony will round out an extraordinary evening of music, celebrating great masters and rising talent.
Now in his third season as Music Director of AYS, Maestro Carlos Izcaray is one of the leading conductors of his generation. Praised by international press, Izcaray has won top prizes at prestigious festivals and competitions the world over, appearing with numerous ensembles across five continents. Also the Music Director of the Alabama Symphony Orchestra, Izcaray shows special interest and prowess in undertaking the most complex works in the classical cannon, while also championing innovative programming and celebrating new and under-represented voices.
Heralded as "the finest youth symphony on earth," by KUSC's Jim Svejda, the American Youth Symphony has been fulfilling its mission to inspire the future of classical music for over 50 years. AYS presents exceptional, innovative concerts based on a landmark Fellowship program for young professional musicians in high school through doctoral music programs. Competitively selected, the 100-piece orchestra represents extraordinary talent from all over the world. AYS concerts are offered for free or significantly reduced admission, out of a long-standing dedication to cultural equity and inclusiveness. By sharing these remarkable performances with the community, the American Youth Symphony remains committed to creating access and opportunity for everyone to experience the power and inspiration of classical music. https://aysymphony.org/
Source: American Youth Symphony
Related Media
Additional Links