The American Way - H-II Stephen Michael Apatow - Country Goes Global Album Live
Press Release
-
updated: Mar 19, 2017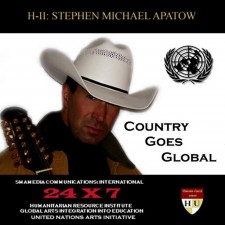 Milford, Connecticut, March 19, 2017 (Newswire.com) - One goal of U.S. national-security strategy is to champion aspirations for human dignity. Coupled with our effort to promote regional stability through democratic reform and our belief that all people are born with certain inalienable rights, our nation has focused efforts to protect the rights of all people throughout the world. -- "Human Rights and Legitimacy in the Training and Advisory Mission," Special Warfare Magazine, January 2013.
This is called "The American Way."
Arts integration Into Education now a Matter of Life and Death
There has never been a more important time to mobilize.
Why?
World Faces Largest Humanitarian Crisis Since 1945, U.N. Official Says: NPR, 11 March 2017.
Red Cross: Syria war destruction 'on World War Two scale': Sky News, 13 March 2017.
Our current international humanitarian and security emergency is best illustrated on the Reliefweb Interactive Map: Countries By Emergency, spotlighted in the background discussion Leveraging Civil Affairs -- SSTR In a Comprehensive Approach Framework: HRI:H-II OPSEC, Updated 15 March 2017.
How can Arts Integration Into Education Help?
The mission of the United Nations Arts Initiative is to connect educators and artists, who have the innovation, creativity and a connection with the grassroots level in 193 UN member countries, to impact prioritized humanitarian emergencies and relief operations. These efforts include participation with strategic planning, critical analysis, expert think tank development for background discussions, peer reviewed data compilation and communications that engage decision makers and audiences in a target demographic.
Country Goes Global
Earlier this year, Country Music Association Artist H-II Stephen Michael Apatow released the album "Country Goes Global," introducing Arts Integration Into Education through the United Nations Arts Initiative and the genre to an international audience in 193 UN member countries.
Soundtracks include:
The American Way: Recorded 3 weeks into chemotherapy/radiation, in 2010, as a part of the uNeverGiveUp Cancer Education and Advocacy Initiative.
Special Forces Prayer: Written in 1961 for William Pelham "Bill" Yarborough by SF Chaplain John Stevey, the 7th SFG (ABN) Chaplain.
The Soldiers Tear: Adapted from "Music & Prejudice," Words from Thomas Haynes Bayly, 1797-1829. Chorus builds upon the message: "You will not enter paradise until you believe, and you will not believe until you love one another." Sayings of the Prophet Muhammad, Selected and Translated by Kabir Helminski. Interfaith Education: The Ultimate Objective: Humanitarian Resource Institute.
The album is currently spotlighted on iHeartRadio, and broadcast quality Country Goes Global soundtracks are available to global radio stations through AirPlay Direct.
Arts Integration Into Education
As founder of UN NGO Humanitarian Resource Institute and the United Nations Arts Initiative, H-II Stephen Michael Apatow currently teaches Lead from the Front - Mediation - Leadership Development programs, reaching 193 UN member countries.  In December 2015, he presented  "Artists and Educators Mobilize: United Nations Arts Initiative," at Teachers College, Columbia University.
Current U.S. and International projects spotlighted on LinkedIn Pulse include
The Album "Country Goes Global" can be purchased on CD Baby, and at a discounted rate on iTunes, Amazon, and Google Play.
All proceeds support the mission of:
Humanitarian Resource Institute: On the web at: www.humanitarian.net
United Nations Arts Initiative: On the web at: www.unarts.org
Source: Humanitarian Resource Institute
---
Categories: Non Profit, Defense and Homeland Security, Artists, Arts and Entertainment, Military, Education
Tags: Arts, Country Music, Defense, Education, Global, NGO, Relief, UN
---