The Altus Foundation and City of Houston Host Record-Breaking Evening, Raising More Than $1 Million During Houston Gala on December 8
Press Release
•
updated: Dec 11, 2018
Star-studded guest list included Tyra Banks, 2018 Masters Champion Patrick Reed, Former Houston Texans Chester Pitts and Andre Johnson, and more.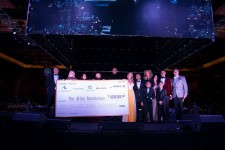 HOUSTON, December 11, 2018 (Newswire.com) - Houston's largest gala, hosted by The Altus Foundation and the City of Houston Mayor's office, was a show-stopping evening on December 8 that will remain in guest's memories for years to come. The 17th annual sold-out glitzy and glamourous soiree hosted 1,300 guests, raising more than $1M to benefit the Houston community and beyond.
The most highly anticipated evening, in its first year of partnership with the City of Houston Mayor's office, kicked off with a fashionable red carpet and cocktail hour with guests dressed to impress in black tie and elegant fashion. Partygoers mixed and mingled alongside VIP guests such as Chester Pitts, Former Houston Texan; Patrick Reed, 2018 Masters Champion; and "Spy" actress Nargis Fakhri. While sipping on champagne, guests bid on luxury auction items including an all-expenses-paid trip to New York City to see a New York Yankees game in a Legends Suite, and a "Ferrari Staycation" including two nights at the Hilton Americas with a Ferrari at your leisure.
I am thrilled that I was part of this amazing event. The Houston Gala truly embodies The Altus Foundation's Texas-sized heart, and I am honored to be part of a celebration that will help so many people in need.

Tyra Banks, Houston Gala emcee, Supermodel, Media Maven
When supermodel, mogul, and media maven and Houston Gala emcee Tyra Banks took the red carpet, her iconic presence signified this would be a night guests would never forget. Once the doors opened to the grand ballroom, guests were wowed with the incredible sounds of Divisi Strings and Collide while aerialists performed high-flying acrobatics among a beautifully decorated venue by Décor 2 Remember and SCF Events.
Zahid "Cruize" Gaj, EVP of Business Development and Marketing for Altus Health, provided welcoming remarks and a tribute to Khurram Ibrahim, a former Altus employee/division President and family member, who passed away in a tragic accident earlier this year. Taylor Thi, pop music sensation, performed a touching tribute for Ibrahim that sealed his memory in the hearts of the audience.
Tyra Banks amped up the glamorous fete as emcee, by sharing how the Foundation has led the way in helping communities and all of those in need with their spirit of goodwill. She introduced the man of the hour, Platinum Sponsor, ZT Corporate Chairman and CEO Taseer Badar, who thanked guests for their continuous support for the Altus Foundation's mission. Houston Mayor Sylvester Turner also provide a few remarks about the importance of the Altus Foundation's contributions to Houston.
The Altus Foundation executive team – President, Anil Motwani; Vice President, Mohsin Malik; and Director of Marketing, ThuyLan Chang – joined the stage and re-capped the Foundation's accomplishments over the year and offered a glimpse in what they plan to accomplish in 2019.
The audience watched a touching story of one of the Foundation's patients, Gerardo Limon, who was shot during a robbery earlier this year and left paralyzed from the injury. Emotions ran high when Limon walked up the stage as the crowd cheered him on with a standing ovation. Limon shared his courageous story and thanked the Altus Foundation for its support throughout these tough times.
With the Foundation's help, Limon received the surgery and medical care he needed to become mobile after he was left paralyzed. Limon surprised guests when he got down on one knee and proposed to his girlfriend, who had been by his side since the tragic incident. The ring was provided by Houston-based Ila Sodhani of Ila Jeweler, who gifted Limon with a beautiful, one-of-a-kind diamond ring so he could make his dreams come true of proposing to his girlfriend on bended-knee. There was not a dry eye in the room following this stunning display of generosity from the Foundation and thankfulness from the Limon family.
A check for more than $1 million was presented to Anil Motwani by one of the platinum sponsors, Taseer Badar. All proceeds were raised from sponsors and gala attendees.
The evening continued on a high note with a live auction led by World Champion Auctioneer, Wayne Wheat, where bidders competed to purchase exclusive items such as 2019 Super Bowl LIII VIP Experience, Grammy Awards Show Experience and Official After-Party, and Luxurious Escape to a Private Villa in Bali.
Unique entertainment kept the crowd enthralled, including a one-of-a-kind Cirque Berzerk performance where acrobats put a modern twist on traditional circus, and a live set from magnetic DJ duo, Natalia & Esther, who kept the crowd moving and grooving with their unique blend of live violin and electronic music.
"I am thrilled that I was part of this amazing event," said celebrity emcee Tyra Banks. "The Houston Gala truly embodies The Altus Foundation's Texas-sized heart, and I am honored to be part of a celebration that will help so many people in need."
"Our goal was to 'wow' guests for their continued support in our mission. We created an evening that no one in Houston has ever experienced," said Taseer Badar, Chairman and CEO, ZT Corporate. "Without the support of the community, we wouldn't be able to provide the necessary resources for people in need. We're proud to be a part of a community that is always ready to give back."
Altus Foundation 2018 Houston Gala Highlights
WHAT:

Altus Foundation 2018 Houston Gala

WHEN:

Saturday, December 8, 6:30 p.m.

WHERE:

Hilton Americas – 1600 Lamar Street, Houston, TX 70010

HOSTS:

The Altus Foundation and the City of Houston

Emceed by Supermodel, mogul and media maven, Tyra Banks

PLATINUM SPONSORS:

GUESTS:

ZT Corporate

Real Value Rx

ZT Motors

Quest Trust Company

More than 1,300 Guests

Altus Foundation, President, Anil Motwani

ZT Corporate, Chairman & CEO, Taseer Badar

Houston Mayor, Sylvester Turner

Altus Foundation Recipient, Gerardo Limon

Celebrity Guest "Spy" actress, Nargis Fakhri

Former Houston Texans: Chester Pitts, Andre Johnson, Travis Johnson, Wade Smith, Kevin Walter

Former Houston Rocket, Carl Landry

Houston Texan, Brennan Scarlett

2018 Masters Champion, Patrick Reed

KPRC, Dominique Sachse

ENTERTAINMENT:

Cirque Berzerk

Divisi Strings and Collide

Natalia & Esther

Taylor Thi

DJ Scoop

PHOTO CREDIT:

VENDORS:

Composure Studios

Videographer: Sloan Visuals and Benjamin Onda

Floral: SCF Events

Décor: Décor 2 Remember

AV and Audio: AURA Systems

Event Coordinator: Victor Pham, Sam and Sanders

Live Auctioneer: Wayne Wheat
About The Altus Foundation:
The Altus Foundation provides diversified assistance to individuals and families, including but not limited to premium healthcare, financial, food, shelter and scholarship programs for young entrepreneurs. It is our vision to make a positive impact on the communities and families we serve, providing the essential support they need to thrive. Together, we can change lives.
Media Contact
Megan Dawe
megan.dawe@loveadv.com
713-552-1055
Source: Altus Foundation
Related Media
Additional Links