The Age Beautifully Cookbook Wins Gold in Living Now Awards for Year's Best Books for Better Living
Press Release
•
Sep 19, 2016
The 8th Annual Living Now Awards for the year's best books for better living were announced by the Jenkins Group this week, and The Age Beautifully Cookbook: Easy and Exotic Longevity Secrets from Around the World (Skyhorse Publishing; April 5, 2016; 978-1-63450-797-4) has been awarded Gold in the Specialty Cookbook category.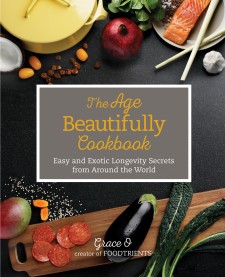 Los Angeles, California , September 19, 2016 (Newswire.com) - ​​​​​​Grace O, author and creator of FoodTrients®, dedicated The Age Beautifully Cookbook to delicious age-defying recipes because eating well doesn't mean sacrificing the foods you love or satisfying meals. Grace O's recipes are built on foundations of modern scientific research and ancient knowledge of medicinal herbs and natural ingredients from around the world. She combines exotic ingredients like moringa, baobab, mangosteen and more to add age-fighting benefits to familiar recipe favorites.
The Living Now Book Awards are designed to bring increased recognition to the year's very best lifestyle books and their creators. Lifestyle publishing categories such as home, family, wellness and personal development are the fastest-growing segments of book publishing today. The Living Now Book Awards help demonstrate the importance of these books to readers and their vitality in the marketplace.
Cookbooks are such a labor of love, so we are thrilled that The Age Beautifully Cookbook and Grace O have been honored with this award.

Barbara Weller, FoodTrients Executive Editor
The Awards celebrate the innovation and creativity of newly published books that enhance the quality of people's lives, from cooking and fitness to relationships and mature living. The awards are open to all books written in English and intended for the North American market. The gold, silver and bronze medalists in this year's Living Now Book Awards offer a list of books representing some of the fastest-growing segments of book publishing today.
The awards are presented by Jenkins Group of Traverse City, Michigan. Jenkins Group has been involved in book packaging, marketing and distribution since 1988, and is dedicated to promoting books that improve readers' lives and bring families together. The Age Beautifully Cookbook is available to order on Amazon and Barnes and Noble.
About the Author
Grace O has been cooking and baking professionally all of her adult life. As a young adult in Southeast Asia, she managed her family's cooking school and eventually opened three restaurants. Grace has also worked more than twenty years in the health-care industry and is the owner and CEO of three skilled nursing facilities in California. In addition to writing The Age Beautifully Cookbook, she is the author of The Age Gracefully Cookbook and lives in Pasadena, California. Visit Grace O's website at www.FoodTrients.com
About FoodTrients
Combining her passion for food and a lifelong commitment to promoting a healthy lifestyle, Grace O has created FoodTrients®, a unique program for optimizing wellness. A FoodTrient is her name for the natural anti-aging properties of food. Grace O is a fusion chef with a mission: to cook up recipes for sustaining a long and joyful life that are built on a foundation of anti-aging science and her work in the health care industry. Mixing foods and unique flavors culled from a lifetime of travels in Asia, Europe, and America, Grace O encourages young and old to celebrate a full life that embraces diversity. Lifestyle tips, age-defying recipes, and secrets of the healing properties of food are the centerpiece of FoodTrients– all available through cookbooks, the website, e-newsletters, and much more. For more information, visit www.Foodtrients.com and www.facebook.com/foodtrientsagegracefully.

The Age Beautifully Cookbook
Easy and Exotic Longevity Secrets from Around the World
By Grace O
Skyhorse Publishing hardcover
280 pages | ISBN-10: 1634507975 | Price: $24.99

The Age GRACEfully Cookbook
The Power of FOODTRIENTS To Promote Health and Well-being for a Joyful and Sustainable Life
By Grace O
Skyhorse Publishing hardcover
152 pages | ISBN-13: 978-1-63450-378-5 | Price: $19.99
EBook ISBN-10:1634503783 Price: $13.99
CONTACT:
Jaidree Braddix
Cooking & Lifestyle
Skyhorse Publishing
(212) 643-6816 x 303
jbraddix@skyhorsepublishing.com
Source: FoodTrients
Related Media
Tags
Additional Links