The 8th Reggae on the Mountain Festival Takes Place July 22nd-23rd in Topanga Canyon, California
Label 27 Event Production's Brooks Ellis and Amit Gilad Present the 8th Annual Reggae on the Mountain Festival with Sly & Robbie with Mykal Rose; Katchafire; Yellowman; Raging Fyah; Eljai; Alika with Quinto Sol; The Expanders; Landon McNamara; Blaze Mob; Ital Vibes; Prime Livity; SYNRGY; Cornerstone; Ras Rebel; Pachamama, Irie Nature; Yesai and Likkle Reggae
Press Release
-
updated: Apr 13, 2017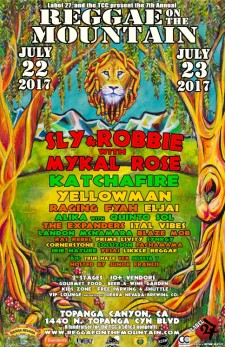 Topanga Canyon, CA, April 13, 2017 (Newswire.com) - ​For the 8th blockbuster year, LA's favorite Reggae Festival is back.  On July 22 & 23 in beautiful Topanga Canyon, California, Reggae on the Mountain will present the best artists from Reggae music in this spectacular setting for two days of pure Roots Rock Reggae.
Label 27 Event Production's Brooks Ellis and Amit Gilad have assembled a spectacular collection of internationally acclaimed Reggae, Ska, Dub and World Music performers.
The 2017 Line-up features Sly & Robbie with Mykal Rose; Katchafire; Yellowman; Raging Fya; Eljai; Alika with Quinto Sol; The Expanders; Landon McNamara; Blaze Mob; Ital Vibes; Prime Livity; SYNRGY; Cornerstone; Ras Rebel; Pachamama, Irie Nature; Yesai; and Likkle Reggae
Brooks & Amit add, "We are so grateful and excited to be bringing this wonderful event to the community for the 8th year in a row. We look forward to seeing all of you at the 8th Annual Reggae on the Mountain! We can't wait to dance, laugh, eat, drink and be Irie on the mountain with all of you! One love!"
Single Day Tickets: $40-$50 (Presale) $60 (Door)
Two Day Pass: $70-$80 (Presale) $90 (Door)
Single Day VIP: $135
Two Day VIP: $245 – VIP includes: OPEN BAR (beer & wine), a Private shaded viewing and Premium front row viewing with Private bathrooms and a gift bag.
Sat, Jul 22, 2017, 10:00 AM - Sun, Jul 23, 2017, 8:00 PM - The Topanga Community Club 1440 N Topanga Cyn. Blvd | Topanga, CA 90290
Label 27 Event Production Presents: The 8th Annual Reggae on the Mountain Festival taking place July 22nd-23rd in Topanga Canyon, California Featuring Sly & Robbie with Mykal Rose; Katchafire; Yellowman; Raging Fyah; Eljai; Alika with Quinto Sol; The Expanders; Landon McNamara; Blaze Mob; Ital Vibes; Prime Livity; SYNRGY; Cornerstone; Ras Rebel; Pachamama, Irie Nature; Yesai and Likkle Reggae
Website: www.reggaeonthemountain.com
Facebook: https://www.facebook.com/reggaeonthemountainLA/
Buy Tickets: https://www.eventbrite.com/e/reggae-on-the-mountain-2017-tickets-29831674341
Source: Label 27 Event Productions
---
Categories: A&E News, Music, Arts and Entertainment, Vacations and Travel, Travel Guides, Lifestyles, Artists, Live Performance
Tags: Amit Gilad, Brooks Ellis, Irie Nature; Yesai: Likkle, Label 27 Event Productions, Reggae Festival, Reggae on the Mountain, Sly & Robbie with Mykal Rose; Katchafire; Yellowman; Raging Fyah
---