The 2nd HTVRONT Fans Carnival is on Its Way
Press Release
•
updated: Mar 27, 2023
HTVRONT, the popular handicraft brand, will have its 2nd Fans Carnival Sale from April 6th-12th, 2023.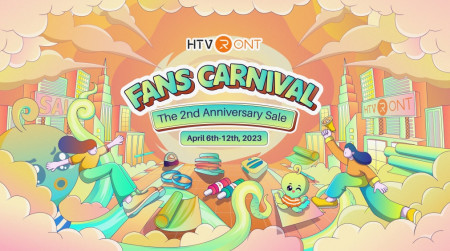 SACRAMENTO, Calif., March 27, 2023 (Newswire.com) - HTVRONT, as one of the most popular brands in the do-it-yourself industry, is going to embrace its second Fans Carnival coming in April 2023, together with its sister brand, LOKLIK. This event will last seven days, from April 6th to April 12th, offering their customers numerous great deals and limited pre-sale seats for the new cutting machine, LOKLIK Crafter.
Herman, the top executive of HTVRONT, said that "The increasing development of HTVRONT is tied closely to crafters' relentless pursuit of enthusiasm in life. And that's what powered us to keep going on and will go further."
Its products have attracted 10 million craft lovers from over 50 countries, and on this fifth anniversary, HTVRONT will link to a dozen of popular international shopping platforms and release a certain amount of mystery gifts for its friends.
In addition, various of HTVRONT's hit products, like heat transfer vinyl, adhesive vinyl, sublimation paper, and an abundance of tool accessories, will be packed in bundles with diverse colors and patterns. Users are allowed to magnify the innovation and possibilities in all kinds of creative activities.
The executive also added that in this event, HTVRONT and LOKLIK, the new star of craft machine brands, will work together to bring a more worthwhile treat for craft lovers. The newest ultra-quiet cutting machine, LOKLIK Crafter, which had recently finished its crowdfunding campaign on IndieGoGo, one of the world's biggest crowdfunding stages, is set to go on sale at the Fans Carnival with an early-bird price.
This intelligent cutting machine is highly praised for its family-friendly noise-reducing technology, delivering its customers a soothing craft experience at home and even at night. Moreover, combined with its self-developed blade and selected step motor, LOKLIK Crafter is tested to be around 20% faster than its counterparts available on the market.
And from April 27th to 28th, 2023, these two innovative brands will meet their fans at GPX in Charlotte, US, showcasing their newest product, Mug Heat Press, and more.
HTVRONT, established on April 9th, 2018, focuses on providing user-friendly and better value-for-money products for craft lovers. During its five years of business striving to spread innovative culture and lifestyle worldwide, it has now completely realized the integration of self-research, production, and sales along with a robust business system that includes global supply chains, affiliated warehouses in different countries, an efficient logistics system, and an independent production workshop spanning over 12,000² meters.
For regular updates on HTVRONT, follow us on:
Facebook: https://www.facebook.com/htvront
Instagram: https://www.instagram.com/htvront
Contacts
Email: pr@htvront.com
Tel: +195 42807347
Source: HTVRONT
Tags