Thailand Celebrates 200 Years of US-Thai Friendship With a Day of Cultural Activities and a Trip Giveaway to Thailand
Press Release
•
updated: Sep 13, 2018
Experience Thailand 2018 On September 16, 2018, at Nelson A. Rockefeller Park in Battery City Park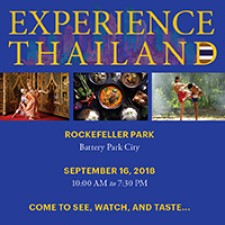 NEW YORK, September 13, 2018 (Newswire.com) - ​The Royal Thai Consulate-General New York announces its annual "Experience Thailand" event will take place this year at Rockefeller Park in Battery Park City, on Sunday, Sept. 16 and will feature cultural, experiential activities with a special celebration of 200 years of US-Thai Friendship.
The cultural festival is free and open to the public from 10:00 a.m to 7:30 p.m. Sunday's event will feature:
● Thai Cooking Competition to win a round-trip air ticket to Thailand plus hotel accommodation
● Thai street food booths by top Thai restaurants
● Muay Thai showcase by Five Points Academy, The Wat Team and Raktan Muay Thai
● Yoga session by Janice Liou
● Thai Spa and massage trial by 5th Ave Thai Spa
● Thai cultural performances and art supported by Chang Beer
● Thai culinary demonstration by a celebrated Thai chef, Chef Hong Thaimee
● Exhibition from the SUPPORT Foundation of Her Majesty Queen Sirikit of Thailand
A made-in-Thailand marketplace; similar to what one would find in Bangkok featuring Thai food products, Thai orchids, and custom fragrances.
● A series of fashion shows featuring distinguished and a new generation of Thai designers
● A live contemporary art performance by Thai artist Sarasin Chatwichitkul that will be auctioned off to support Art-Start
● A live mural painting featuring the rescued 13-player soccer team titled "Wild Boar" by Thai artist Mr. Pairoj Pichetmetakul will be auctioned off to support an NYC based non-profit that is focused on NYC's youth and child development
-Thai NYC residents are invited to put their culinary skills to the test as part of a live cooking competition to win a round-trip air ticket to Thailand and 2 nights stay at Conrad Hotel, Samui. The competition will be held on stage and is open to the public on a first come, first serve basis. Applications to enter the competition will be done on-site at the event on Sept. 16.
The event is also supported by Tourism Authority of Thailand, the Thai Trade Office, Board of Investment (BOI), Bank of Thailand, Bangkok Bank, Thai Airways International and Conrad Hotel which will be available to provide information and materials for those interested in tourism and business in Thailand.
The Experience Thailand 2018 will take place in Nelson A. Rockefeller Park (River Ter & Warren St) in Battery City Park area, New York, NY 10282 on Sunday, September 16 from 10:00 a.m. to 7.30 p.m. For further information, please visit http://bit.ly/ExperienceThailand2018.
About Royal Thai Consulate General New York
The Royal Thai Consulate General in New York has the main function of providing passports for Thai citizens, issuing visas for foreigners to travel to Thailand and offering legalization services and protection for Thai nationals who live in the United States of America. The organization also supports and promotes opportunities for Trade, Investment, and Tourism in Thailand. This is the 3rd year the Royal Thai Consulate General New York has hosted its "Experience Thailand" event in New York City. For more information, please visit www.thaicgny.com
About Art-Start
Art Start nurtures the voices, hearts, and minds of New York City's underserved youth through consistent creative workshops inside homeless shelters, an alternative to incarceration programs, and partnering youth agencies.
PR Contact
Romey Louangvilay
ELMNTL
Romey@elmntl.co
AND
Wongdee Greenstein
Royal Thai Consulate-New York
wongwadee@thaicgny.com
Source: Royal Thai Consulate - New York
Additional Links