Text IQ Recognized as One of World's Top 5 AI Companies in Risk & Regulatory Compliance
The company was joined by WorkFusion, Socure, Onfido and Merlon Intelligence in receiving the honor
Press Release
-
updated: Dec 15, 2017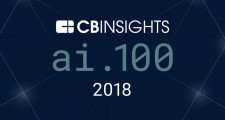 SAN FRANCISCO, December 15, 2017 (Newswire.com) - On Wednesday, Text IQ was named to the prestigious AI 100 list alongside just four other companies in the "Risk & Regulatory Compliance" category. Officially billed as "a ranking of the 100 most promising private artificial intelligence companies in the world," the list is authored annually by CB Insights, the authority on emerging trends in artificial intelligence. Only nine percent of all nominees and applicants were selected for this year's ranking, and nine countries were represented among the finalists.
WorkFusion, Socure, Onfido and Merlon Intelligence joined Text IQ in the "Risk & Regulatory Compliance" group, with other highlighted categories including "Healthcare," "Agriculture," "Life Science" and "Robotics." Each housed a handful of innovative companies using cutting-edge AI technology to positively impact their respective fields.
CB Insights CEO and co-founder Anand Sanwal revealed the second annual list at the A-ha! conference in San Francisco, recognizing the companies in front of an audience of 400 senior innovation executives from around the world.
"Last year's AI 100 enjoyed amazing success in the year since earning this recognition. Fifty-five of them went on to raise additional funding nearing $2B and five were acquired," Sanwal said. "I'm happy that CB Insights is able to shine a light on the founders and companies that will revolutionize these industries, and look forward to seeing what they do in 2018 and beyond."
Text IQ uses AI technology to prevent high-stakes compliance and legal disasters, with customers including Fortune 200 companies, government agencies and tech giants, as well as leading healthcare, biotech, energy, insurance and financial institutions. Its proprietary software is able to efficiently analyze big data in order to better identify sensitive, compromising and privileged documents, including those frequently overlooked by human reviewers.
The company has supported some of the most high-profile litigations and government investigations in recent news and is on track to be one of the fastest-growing B2B technology companies in Silicon Valley.
"We're thrilled to have received this distinction, and honored to share it with these four other pioneering companies in our industry," commented Text IQ co-founder and CEO Apoorv Agarwal.
"It's an exciting time for both AI and compliance, and we're proud to be transforming the regulatory landscape while delivering real results to our clients," added co-founder and COO Omar Haroun. "This esteemed recognition reinforces our commitment to both."
The CB Insights research team selected the AI 100 companies based on competitive criteria, examining company-submitted data along with the company's Mosaic Score, which measures the overall health and growth potential of private companies and can predict their momentum, market health and financial viability. For more information and to read the full list, visit https://www.cbinsights.com/research-ai-100.
About CB Insights
The CB Insights team builds technology that helps corporations guess less and win more.  cbinsights.com
Contact:
Farrah Kim, Senior Public Relations & Communications Manager
fkim@cbinsights.com
212-292-3148
About Text IQ
Text IQ uses groundbreaking AI technology to prevent high-stakes legal and compliance disasters, with customers including Fortune 200 companies, government agencies and tech giants, as well as leading healthcare, biotech, energy, insurance and financial institutions. Its proprietary software is able to efficiently and meticulously analyze big data in order to better identify sensitive, compromising and privileged documents — including those frequently overlooked by human reviewers — and the company has supported some of the most high-profile litigations and government investigations in recent news. www.textiq.com
Contact:
Rebekah Lowin
rebekah@textiq.com
203-921-8542
Source: Text IQ
Share:
---
Categories: Business to Business, Compliance and Regulations, Regulations and Compliance
Tags: ai 100, ari, artificial intelligence, business technology, business to business, compliance, compliance technology, deep learning, machine learning
---