Texas Commercial Real Estate Firm Partners Real Estate Expands Reach Nationally With Launch of Partners Finance Digital Investment Platform
Press Release
•
May 8, 2023
New digital investing platform provides online access for accredited investors nationwide to invest directly into Partners' commercial real estate investment products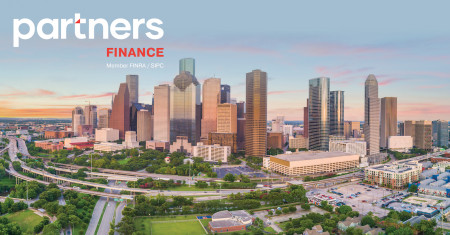 HOUSTON, May 8, 2023 (Newswire.com) - Partners Real Estate ("Partners"), one of the largest independent commercial real estate firms in Texas — and the company formerly known as NAI Partners — today announced that it has launched a new digital investment platform website, Partners Finance, at https://www.precfinance.com, providing direct access to all Partners investment funds and projects to accredited investors nationwide.
The new Partners Finance digital platform offers interested accredited investors the ability to invest directly in Partners' funds and development opportunities. Partners Finance works with accredited investors, family offices, institutional investors, and registered investment advisors, helping them invest into funds and projects sponsored by the Partners Real Estate Group.
Partners Finance's investment platform website makes investing in real estate easy, with a straightforward four-step process: (1) create your account; (2) review current investment opportunities; (3) select the investment opportunity you like; and (4) invest directly.
"Partners Finance allows accredited investors the opportunity to own interests in Partners commercial real estate properties and developments," said Brett Chiles, Managing Director of Partners Finance. "Investing in commercial real estate shouldn't be shrouded in mystery and available only to a select few. Our investment platform website eliminates gatekeeping, providing online access to multiple commercial real estate property types — including office, industrial, retail, land, and development investments — through funds and deal-by-deal opportunities to all accredited investors."
Click here to review all of Partners Finance's current investment opportunities.
For more information about Partners Finance, investment opportunities and/or to become an investor, please sign up on our website to be added to our distribution list, or contact Brett Chiles directly at (713) 985-4413 or brett.chiles@partnersrealestate.com.
Partners Capital is offering securities under Rule 506(b) and Rule 506(c) of Regulation D through PCR Finance Group, LLC (dba Partners Finance) ("Partners Finance"). The Company has filed a Form D with the Securities and Exchange Commission in connection with its offering, a copy of which may be obtained at: https://www.sec.gov/Archives/edgar/data/1972386/000197238623000002/xslFormDX01/primary_doc.xml. This email communication is intended solely to provide general information and is not an offer or solicitation with respect to the purchase or sale of any security. The material contained in this digital communication is intended for financially sophisticated investors. Partners Capital does not solicit or make its services generally available to the public. Further, the information contained in this email communication, including information regarding investments, may not be relied on in any manner as legal, tax, accounting or investment advice. Past performance is not indicative of future results.
Source: Partners Real Estate
Tags