As Houston Becomes an Appealing Destination for the Life Sciences Sector, NAI Partners' Life Sciences & Healthcare Team Continues to Assist National Firms Expanding to Texas
Press Release
•
updated: Feb 12, 2021
Affordability, amiable climate, and booming medical center affirm the Greater Houston Area's reputation as among the most appealing destinations in the United States for the Life Sciences product type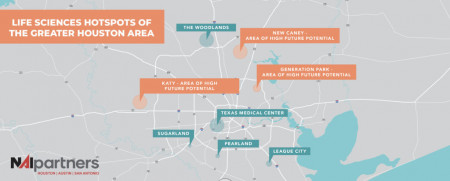 HOUSTON, February 12, 2021 (Newswire.com) - On the heels of a top 5 ranking on the list of national emerging clusters; multiple planned local and regional developments in the sector; and the area's largest deal of the year in the product type— which was completed by Houston-founded and -headquartered commercial real estate firm NAI Partners — Houston has affirmed its reputation as among the most appealing destinations in the United States for the Life Sciences product type.
"According to recent research conducted by the real estate industry, Boston, the San Francisco Bay Area, and San Diego head up a list of the Top 13 Life Sciences Clusters in the U.S.," said Holden Rushing, a Senior Vice President on NAI Partners' Life Sciences & Healthcare Services team and member of the MD Anderson Advance Team.
"That same survey ranked a second tier of 10 cities (after the top 13) under the heading 'emerging,' and on that list Houston is #2 out of the U.S.'s Top 10 Emerging Clusters for Life Sciences — behind only Pittsburgh — and ahead of #3 Austin and #6 Dallas/Ft. Worth.
"Every cluster ahead of Houston on these rankings is on a coast, making Houston the essential location for top-tier forward-thinking life sciences companies interested in expanding into new geographies."
NAI Partners' Life Sciences & Healthcare Services team has grown substantially as it augments the service delivery it has already been providing to national companies in that sector looking to further expand their footprints to Texas — specifically in the Greater Houston area.
Among recent client success stories is a deal completed by NAI Partners' Dan Boyles and Jon Silberman — sale of the former Lexicon Pharmaceuticals campus, consisting of five buildings totaling 260,950 sq. ft. at 8800 Technology Forest Drive, located in The Woodlands — just north of the city of Houston. The sale was the single-largest commercial real estate sales transaction in the Life Sciences sector in the Greater Houston area in 2020.
"Between its highly educated talent pool, nationally regarded healthcare industry, and business-friendly environment — including being one of the few states without a personal, state or corporate income tax — Houston's cost-effective tax structure makes it a choice location for any company looking to establish a presence or expand its current footprint," said Travis Rodgers, COO & EVP, NAI Partners.
While there are opportunities aplenty in the city of Houston proper — notably in Houston's world-renowned Texas Medical Center — many Life Sciences and healthcare organizations are also discovering the space they require is available at favorable prices in some of Greater Houston's communities, including The Woodlands, Pearland, Sugar Land, League City, Conroe and Galveston.
For more information, contact Larry Koestler, SVP of Marketing & Communications, at 713.629.0500.
Source: NAI Partners