TERRIFICON Brings Comic Con Action to Mohegan Sun's All-New, Giant Sized Expo Center on August 17-19
Press Release
•
updated: Jul 12, 2018
New England's Largest Gathering of Comic Book Artists & Writers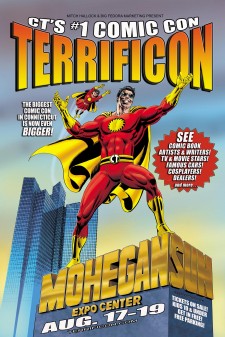 UNCASVILLE, Conn., July 12, 2018 (Newswire.com) - Comic Book Fans Prepare for the Return of Connecticut's #1 Comic Con - TERRIFICON!
TERRIFICON®, Connecticut's largest comic book convention, returns on Aug. 17-19 once again to Mohegan Sun in Uncasville, Connecticut. This year's Terrificon will be held in Mohegan Sun's all-new, Earth Expo Center and contain 3 full days of super-powered awesomeness that could take down any cosmic-powered villain!
This year's TERRIFICON at Mohegan Sun is not only in a larger venue, it has a super-sized guest list that fans in New England have always dreamed about.

Mitch Hallock, Event Owner & Producer
New England's Largest Comic Creator Guest List
Taking full advantage of the spacious Earth Expo Center, TERRIFICON has assembled a massive gathering of comic book creators of today's hottest titles to epic tales of yesteryear. The guest list of comic book artists and writers will be the largest In New England and includes Marvel's newly appointed Editor-in-Chief, C.B. CEBULSKI to writer/artist JIM STARLIN, the creator of Thanos and the Infinity Gauntlet storyline which was the basis of this summer's blockbuster film; "Avengers: Infinity War". "This year's TERRIFICON at Mohegan Sun is not only in a larger venue, it has a super-sized guest list that fans in New England have always dreamed about," said TerrifiCon producers/owner MITCH HALLOCK.
Other members of comic book luminaries in attendance at TERRIFICON include; ADAM WALLENTA, AFUA RICHARDSON, ALAN DAVIS, ART BALTAZAR, ARTHUR SUYDAM, BARBARA FRIEDLANDER, BARRY KITSON, BILLY TUCCI, BOB ALMOND, BOB MCLEOD, BRETT BREEDING, CHARLES SOULE, CHRIS CAMPANA, CHRIS GIARRUSSO, CHRIS STEVENS, CHRISTOPHER PRIEST, CLIFF GALBRIATH, DAVE RYAN, DAVID MICHELINE, DAVID WENZEL, DENNY O'NEIL, DON MCGREGOR, FRANCO, FRANK CHO, GREG HORN, GREGG SCHIGIEL, JACOB CHABOT, JASON FABOK, JERRY ORDWAY, JIM STARLIN, JIM TAYLOR, JOE CARAMAGNA, JOE CORRONEY, JOE GIELLA, JOE RUBINSTEIN, JOE ST. PIERRE, JOEL ADAMS, JOHN BEATTY, JOSE LUIS GACIA LOPEZ, KEITH GIFFEN, KEVIN NOWLAN, KRISTEN GUDSNUK, LARRY HAMA, MARC GUGGENHIEM, MARK, FARMER, MATT RYAN, MICHAEL GOLDEN, MICHELE DRILECKI, MIKE BARON, MIKE NORTON, MIKE W. BARR, MIKE ZECK, MYRAT MYCHALS, NEAL ADAMS, NICK SPENCER, PAUL KUPPERBERG, PAUL MOUNTS, PAUL PELLITIER, PETER TOMASI, RACHAEL ORDWAY, RAFER ROBERTS, RAGS MORALES, RENEE WITTERSTAETTER, ROGER STERN, RON FRENZ, RON LEARY, JR, RON LIM, RON WILSON, ROY THOMAS, RYAN STEGMAN, SARA RICHARD, SCOTT HANNA, TIM SEELEY, TOM RANEY, ZEEA ADAMS and more.
Superhero TV & Movie Stars
TERRIFICON is also bringing actors from classic superhero TV and movies to Mohegan Sun including actor JON BERNTHAL, star of Marvel's "The Punisher" from the Netflix hit series. Mr. Bernthal is also a fan favorite from his portrayal of Shane on "The Walking Dead", as well the films, "Fury", "The Wolf of Wall Street", "The Accountant", "Grudge Match" and many more. Other guests include actress POM KLEMENTIEFF who portrayed Mantis in "Guardians of the Galaxy, Vol. 2" and "Avengers: Infinity War". MICHAEL JAI WHITE, star of "Spawn", "Black Dynamite" and "The Dark Knight", LOU FERRIGNO, star of "The Incredible Hulk" and DREW POWELL from "Gotham". Award-winning actor HENRY WINKLER, who was the coolest of heroes on TV as the Fonz on "Happy Days", as well the shows; "Arrested Development" and "Community" will be in attendance as well. Animation is also celebrated at TERRIFICON with voice over actors LARRY KENNEY from "Thundercats", GREG CIPES from "Teen Titans Go!", CHARLIE SCHLATER from "Kick Buttowski" and others.
Guinness World Record Attempt
TERRIFICON will be attempting to set a GUINNESS WORLD RECORD® for "Most contributions to a greetings card" at this August's event at Mohegan Sun Expo Center. This won't be an ordinary greeting card, it will be a super-sized birthday card measuring 5 feet tall and 24 feet long featuring art by legendary artist JERRY ORDWAY and celebrating Superman's 80th anniversary! Comic book fans can be part of the record-setting attempt by signing the giant card that will be on display at TERRIFICON!
Aw Yeah Fun Zone and CTGamer Arena
TERRIFICON is more than a comic con, it's several conventions in one, with the addition of two new areas at this August's event dedicated to fun and games, literally. AW YEAH COMICS creators, and award-winning writer and artist team, FRANCO and ART BALTAZAR, will be organizing an entire 10,000 sq. ft ballroom made up of a dozen artists that will have all ages fun with arts and crafts, robotics, workshops, puppetry and even live music from the kids' band SCHOOL OF ROCK. The AW YEAH FUN ZONE runs all three days at TERRIFICON and is in the Earth Ballroom.
Microsoft and Game Underground and will take over several rooms and provide a CTGAMER con with video game tournaments with such games as FortNite, Injustice, Smash Brothers and MarioKart. For those who prefer tabletop games, there will be Magic the Gathering and Warhammer matches as well presented by Dragon's Lair.
TERRIFICON, produced by BIG FEDORA MARKETING, will be Aug. 17, 18 and 19, 2018 at Mohegan Sun Expo Center in Uncasville, Connecticut and features comic book creators, actors, vendors of comics, toys and collectibles, costume contests and more.
TERRIFICON has free parking and children 10 and under are admitted free with a paying adult. Tickets start at $26.75 and can be purchased at Mohegan Sun Arena Box Office seven days a week or online at Ticketmaster. Comic book shops throughout the Connecticut area are also selling tickets for TERRIFICON. See locations and more information on the website www.terrificon.com.
#Connecticut #Terrificon #Comicon #Comiccon #MoheganSun
About Big Fedora Marketing, LLC. Started in 2012, the Connecticut-based firm has been producing and organizing comic conventions throughout the Nutmeg State. Owned by Mitch Hallock, a lifelong comic book fan, with a long career in advertising, marketing and event planning since 1990. Hallock's goal is to deliver the excitement that fans get from comics and games and deliver that tenfold into several days of pure fun at his conventions. Since 2015, Big Fedora's conventions have been held at Mohegan Sun in Uncasville, Connecticut. "TerrifiCon, CT's Terrific Comic Con" and "CTGamerCon" have been praised by actors, comic book professionals and fans.
Source: TERRIFICON
Related Media
Additional Links