Techwave continues its expansion journey with new office space in Netherlands
Press Release
•
Jan 25, 2023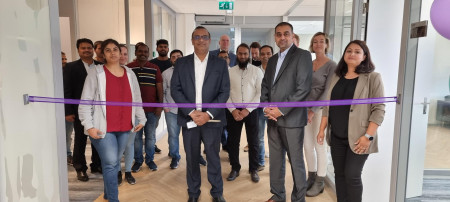 EINDHOVEN, Netherlands, January 25, 2023 (Newswire.com) - Techwave, a leading global IT and engineering solutions provider, is pleased to announce the opening of its new office space in the Netherlands. The new office space will serve as the base of operations for Techwave's expanding European team. The state-of-the-art facility features modern workstations and collaboration spaces, providing the ideal environment for Techwave's team to continue delivering exceptional services to clients.
Techwave is committed to creating a supportive and inclusive workplace for its diverse workforce. The space is designed to integrate all operations seamlessly, while establishing an inclusive environment. The new Techwave office will enable employees to select from a variety of working environments, enabling them to perform their functions more efficiently and support service excellence.
"We are excited to open our new office space in the Netherlands and begin operations in this strategic location. Having a talented workforce delivering high-quality services across a wide range of disciplines demonstrates our strength in the value we create for clientele. This move allows us to serve our European clients more effectively and continue our growth in the region, bringing diverse mindsets into our organization, enabling us to succeed rapidly with this remarkable increase in talent diversity and efficiency," said Mr. Damodar Gummadapu, Chairman, Techwave.
Mr. Murthy Maddali, Vice President - Europe, Techwave, said, "With the new office space, we continue to deliver seamless operations to our clients and continue to provide top-quality technology services. With this new facility, we'll be able to enhance the customer experience and drive innovation in the industry. It is our hope that this new facility will bring even greater success to our team and clients."
About Techwave:
Techwave is a leading global Information Technology and Engineering services and solutions company revolutionizing digital transformations. They believe in enabling clients to maximize their potential and achieve a greater market with a wide array of technology services, including, but not limited to, Enterprise Resource Planning, Application Development, Analytics, Digital, and the Internet of Things (IoT).
Founded in 2004 and headquartered in Houston, TX, USA, Techwave has a team of experts leveraging Digital Transformation, Enterprise Application, and Engineering Services expertise in 11 countries.
Visit us on https://techwave.net/
Source: Techwave
Tags