TEAL, a Global Leader in eSIM Technology, to Participate and Sponsor at Mobile Word Congress Las Vegas 2023
Press Release
•
Sep 13, 2023
TEAL's Commitment to Innovation and Excellence on Display at the MWC eSIM Summit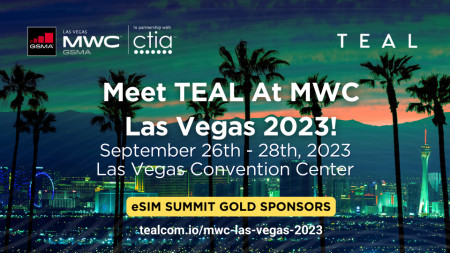 LAS VEGAS, September 13, 2023 (Newswire.com) - Teal, a renowned pioneer in eSIM technology, is thrilled to announce its participation in the forthcoming Mobile World Congress (MWC) Las Vegas happening on September 26th-28th. As a testament to Teal's industry leadership and commitment to the ever-evolving world of mobile technology, the company is also delighted to reveal its Gold Sponsorship of this year's eSIM Summit, set to take place on September 26th.
Meet Teal at booth #425! Teal's team of experts will be on hand to provide insights into how eSIM technology can revolutionize your business operations, offering time and cost efficiencies like never before. This is a rare opportunity to delve into the mechanics of eSIM and discover why eSIM from Teal is trusted by thousands of IoT customers and network operators worldwide. Be sure to schedule your time slot to meet with a Teal eSIM expert.
Adding to the excitement, Teal's Co-Founder and CEO, Robert Hamblet, will be a featured keynote speaker at the eSIM Summit, part of MWC Las Vegas, on September 26th. In his presentation, "How to Scale: You Can Have Your eSIM and Eat it Too! " Hamblet will share his expertise on the intrinsic value of true eSIM technology and what a complete eSIM strategy looks like. Hamblet's keynote will take a look at the various types of eSIM and what the benefits of each are to the enterprise.
Hamblet commented, "We are thrilled to be part of this prestigious event and can't wait to share how Teal's eSIM platform is helping companies build and scale faster. MWC is a fantastic opportunity to connect with our peers, potential clients, and industry leaders."
For an exclusive experience, Teal is also hosting VIP meetings at its poolside cabana suite at the Venetian Resort on September 27th. These sessions will offer attendees a chance to engage directly with the team behind the innovative eSIM platform and learn how Teal can supercharge your business. Don't miss this unique opportunity to connect with Teal at MWC Las Vegas. Book a time slot for a VIP meeting at the Venetian Resort.
But that's not all! Teal is hosting an MWC Raffle and MWC attendees have the chance to win some fantastic prizes. From stylish Travis Matthews polos to custom water canteens, to Teal hats, there's something for everyone. Winners to be announced at MWC Las Vegas on September 27th. Enter to win here.
Find out if eSIM technology can help your business and be sure to connect with Teal at MWC Las Vegas. Schedule a meeting with Teal today.
About TEAL
Teal's patented technology connects any device to any data network worldwide. With more network operator agreements than any other connectivity provider, Teal gives businesses everywhere the flexibility and control to remotely switch between networks, ensuring the highest level of reliability and performance for any internet of things (IoT) deployment. Teal supports applications across many industries including mobility, robotics, drones, industrial IoT, railways, and healthcare. Learn more at teal.io
For Media Inquiries, please contact:
Robb Monkman
VP of Marketing
rmonkman@tealcommunications.com
###
Source: TEAL
Tags