Tea Tree Oil Revealed as Meghan Markle's Skin Care Go-To
Press Release
•
updated: Dec 8, 2017
Thursday Plantation, Maker of 100 Percent Australian-grown Tea Tree Oil, Discusses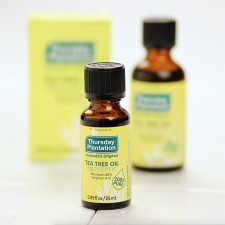 FORT WORTH, Texas, December 8, 2017 (Newswire.com) - Prince Harry's fiancée and soon-to-be Duchess, Meghan Markle has revealed this natural remedy – tea tree oil – is her go-to skin care remedy. She's not alone. Tea tree oil is an Australian favorite that has migrated into bathroom and medicine cabinets across America for its application on minor cuts and burns, abrasions, bites and stings.
Ms. Markle revealed in an interview with Allure Magazine that Tea Tree Oil is her secret skincare weapon, saying, "The one thing that I cannot live without when I'm traveling is a small container of tea tree oil… no matter what it is, it's my little cure-all. It's inexpensive, it's small enough to carry on, and I bring it with me all the time."
What is tea tree oil?
Tea tree is a natural antiseptic that is distilled from specially selected Melaleuca alternifolia leaves. Research shows this essential oil is a powerful antiseptic and helps to inhibit a broad spectrum of bacteria as well as cleanses and protects skin abrasions*.
Thursday Plantation Essentials:
Eric White, the Founder of Thursday Plantation, was the first to believe in the medicinal power of the Tea Tree back in 1973. Each bottle of Thursday Plantation Tea Tree Oil is meticulously tested to ensure the utmost quality and purity and the range continues to exceed national and international standards for quality.
Thursday Plantation Tea Tree Oil is 100 percent Australian grown/made, pure and natural. To find your local Thursday Plantation tea tree oil near you, click here.
###
For interview requests, more information on Thursday Plantation or to request a product sample, please contact:
Kristin Peaks
Immotion Studios
kpeaks@immotionstudios.com
(817) 344-1966
Madison Kiernan
Immotion Studios
mkiernan@immotionstudios.com
(817) 344-1976
About Thursday Plantation:
Built on a steadfast belief in the potency of pure oils and a holistic understanding of the needs of families, Thursday Plantation products are created with an expertise and passion for natural healing.
After years of meticulous research and lobbying, Eric White, the Founder of Thursday Plantation received a Crown lease in 1976 for his own plantation. This notification arrived with the once-a-week mail on a Thursday and so Australia's first commercial plantation, Thursday Plantation was born.
When the brand started, Tea Tree Oil was distilled in large vats over hand lit fires. Today, Thursday Plantation oils are laboratory tested to ensure the utmost quality and purity in every bottle. They produce more than 1.72 million bottles of Tea Tree Oil a year, ensuring natural solutions for households everywhere.
For more information, visit https://thursdayplantationretail.com.
*Carson, C.F. et al. Melaleuca alternifolia (Tea Tree) Oil: a Review of Antimicrobial and Other Medicinal Properties (2006). American Society for Microbiology (p50-62).
Source: Thursday Plantation