TDG: SVOD Gaining Perceptual Parity With Legacy Pay-TV Among Dual Service Users, Especially Younger Viewers
New Data Points to the Growing Opportunity for Pure-Play vMVPD Services to Transition SVOD Users to Multi-Channel Subscribers
Press Release
-
updated: Jul 12, 2017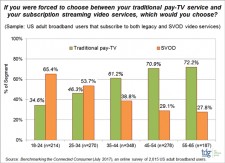 PLANO, Texas, July 12, 2017 (Newswire.com) - If forced to decide between legacy pay-TV or SVOD services, 57 percent of dual-service users would choose legacy pay-TV, 43 percent streaming services like Netflix and Hulu. This according to new insights from TDG's 7th annual Benchmarking the Connected Consumer study.
"One would be excused for thinking the difference would be more dramatic," notes Michael Greeson, President of The Diffusion Group. "After all, one is a multi-channel TV service with live primetime shows, even live sports; the other an on-demand service with no live programming. Apples and oranges, right?"
So much for conventional wisdom. As it turns out, four-in-ten TV viewers choose SVOD over legacy pay-TV. "No, this does not yet constitute perceptual parity," says Greeson. "But there is no doubt that SVOD has taken and is taking a growing part of mainstream mindshare, especially among younger viewers.
TDG's analysis found convincing evidence that this choice is largely a factor of age. In fact, the relationship is strikingly linear. As illustrated, 65 percent of 18-24s would select SVOD over legacy pay-TV, a rate that declines as age increases. Conversely, 72 percent of 55-65s chose legacy pay-TV over SVOD, a rate that declines as age decreases.
"Traditional MVPDs face the growing threat that today's legacy+SVOD user could very well be tomorrow's vMVPD subscriber," says Greeson. "The stage is set. The question now is whether pure-play broadband pay-TV providers — those without legacy assets, like Hulu TV — can capitalize on the opportunity.
Unlike legacy providers that also offer a vMVPD service like Sling TV and Dish, pure-play BPTV operators have no conflict of interest in transitioning SVOD users to multi-channel subscribers. The new revenue will be accretive to ARPU, not dilutive, as the linear package also includes the SVOD service. Cannibalization is thus not a concern for virtual operators as it is for the growing number of legacy providers now dabbling in multi-channel streaming services.
These insights are based on TDG's 7th annual Benchmarking the Connected Consumer study, a survey of more than 2,000 US adult broadband users conducted in Q2 2017. For more information about this new study, please contact sales@tdgresearch.com or call 469-287-8060.
Contact:
Wendy Stockard
469.287.8061
wendy@tdgresearch.com
About TDG Research
TDG provides actionable intelligence on the quantum shifts impacting consumer technology and media behavior. Since 2004, we've helped leading and emerging technology vendors, media companies, and service providers master the digital transformation and decipher how modern viewers access and engage video — whenever and wherever they may be. Learn more about how we can help improve your digital video strategies.
Source: TDG Research
Share:
---
Categories: Television, Business to Business, Emerging Businesses
Tags: legacy pay-TV, mainstream mindshare, MVPD, on-demand service, SVOD, Virtual Multichannel Video Programming Distributor
---