Tayloright LLC Adds Meteorite Inlays to Their Ever-Expanding Exotic Inlay Collection
Press Release
•
Oct 3, 2016
Mens Wedding Bands.com recently expanded its Exotic Inlay Collection which will include one of a kind Meteorite Inlay Wedding Rings.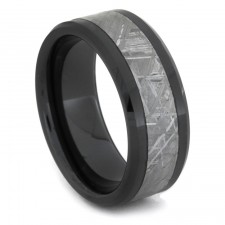 St George, Utah, October 3, 2016 (Newswire.com) - Tayloright LLC announced earlier today the expansion of its Exotic Inlay Collection on its premier website – www.mensweddingbands.com to include a vast selection of "Meteorite Inlay" bands which have become increasingly popular.
"We are excited to add this vast collection of Meteorite bands to our Exotic Inlay Collection" said Ron Johnson, co-founder of Tayloright LLC.
"With these stunning new rings, we will now have one of the largest Exotic Wedding Band Collections anywhere on the internet – this collection now includes inlays in gold, silver, platinum, exotic hardwoods, antler, meteorite, dinosaur bone and stone," he continued.
Customers are willing to wait 4-6 weeks to receive the "perfect" ring and these exotic inlays are no exception – they have some of the most eye-catching looks in the fashion jewelry industry. An example of a popular, rare and stunning Meteorite inlay band that is receiving a lot of attention is the H119M pictured below. This exotic inlay comes from the Gibeon Meteorite found in Namibia.
For more details please visit www.mensweddingbands.com or call 801-755-1661 Monday – Saturday from 8 am to 8 pm Mountain.
About Tayloright LLC
Based in St. George, Utah, Tayloright LLC, began operations in March of 2009 selling primarily mens wedding rings and men's accessories. Currently, Tayloright LLC serves all of the United States, Canada, Australia and select countries within the international community. Their innovative men's rings and wedding bands collections offers one of the internet's largest selections – including stunning, patented designs for men and women seeking eye-catching, one-of-a-kind pieces.
Source: Mens Wedding Bands.com
Additional Links