TASCO Air Conditioning & Heating Milestone: 35 Years of Serving Our Neighbors' Home Heating and Cooling Needs
Press Release
-
updated: Jan 19, 2017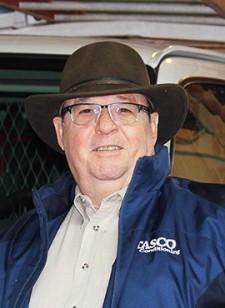 San Antonio, TX, January 19, 2017 (Newswire.com) - ​This coming April marks the 35th anniversary for TASCO Air Conditioning , one of the largest and oldest air conditioning service and installation companies in San Antonio. TASCO (Terry & Susan's Company) grew from a small, home and garage-based company to a large operation with highly trained, certified and experienced technicians, staff and a fleet of service vehicles.
Company President and founder, Terry Wolf remarked: "We have achieved this milestone through the hard work and dedication of our employees, and the trust given to us by the neighbors we serve. Our culture of customer service that exists throughout the entire organization is one of many reasons for our success. We have dedicated ourselves to 35 years of dependable and expert service, and provide our customers with the highest quality HVAC systems ensuring the highest home comfort and energy savings. Throughout 2017, we will be taking a look at where we started, what we have achieved, and what our plans are for the future."
It's a tall order to bring a company past the two year mark, even more so to survive ten years in business.  According to the U.S. Bureau of Labor Statistics, roughly 50% of all new businesses survive 5 years or more, and nearly one-third survive 10-years or more. Terry's success is one to be celebrated when considering the challenges facing any company with over three decades in operation, especially when we consider what Terry led his company through over the years.
With Terry at the helm, TASCO charged through the early 1980's recession, dotcom bubble, rising labor costs, increased federal and municipal regulation, the Great Recession, and competes in a city with hundreds of licensed HVAC competitors. Today he is a successful entrepreneur, small business owner, employer, active in his community and a proud family man.
Company Vice President, Laine Houston commented on the daily grind: "I've been a tradesman all my working life and seen many HVAC companies fail. I've seen a few succeed. I'm thankful to be part of team that is succeeding. We've always treated our customers like next-door neighbors, our employees like family and made sure every job is completed to very high standards. A lot of things have to go right to succeed, and that means working hard every day as a team to take care of our customers."
TASCO Air Conditioning & Heating is a San Antonio, Texas heating, ventilation, and air conditioning company serving residential and light commercial clients. For more information or to schedule your service call visit http://tascoair.com or call 210-684-6200.
Source: Matt McCrossen on behalf of TASCO Air Conditioning & Heating
---
Categories: Home Improvement and Renovations, Heating, Fireplaces, and Stoves, Air Conditioning, Heating, Refrigeration. Ventilation, and Plumb
Tags: AC Repair, AC Repair Company, AC Service, Air Conditioner Service, Broken AC Repair, Furnace Repair, Heating Repair, HVAC Company, HVAC Contractor, Indoor Air Quality
---