Take HEED on the Drive to Transform a Smartphone Into an Ultra-Smart Dash Cam
Press Release
•
updated: May 23, 2017
The ultimate device for cars can be found via the 'HEED: Probably The Smartest Car Accessory In The World!' project on Kickstarter. HEED transforms a smartphone into a dash cam while also providing a long list of beneficial features.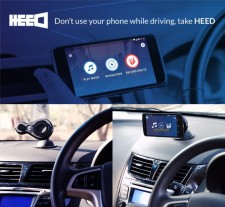 Richardson, Texas, May 23, 2017 (Newswire.com) - HEED, an innovative new device that converts an ordinary smartphone into a dash cam and more, is being introduced to the public via a crowdfunding campaign on Kickstarter. This campaign has a funding goal of $25,000, which needs to be raised in order to bring HEED to market. HEED is a combination of hardware and phone applications that converts a smartphone into a dash cam while also providing on-the-go turbo wireless charging.
When asked about the innovative idea, the team behind HEED stated, "Many drivers wish that they would have had a dash cam to resolve disputes about road mishaps instead of arguing about who was at fault. But spending extra money on a dash cam that serves no other purpose often discourages people from getting one."
"HEED is a world's first innovation that is a combination of hardware and phone applications to convert your phone into a Dash Cam. With HEED you can capture everything on the road with no need to spend extra money on a separate Dash Cam gadget. Just take HEED and enjoy your drive."

Basavaraj Hoskeri, Creator
So the team found a way to turn a device that nearly everybody has into "the smartest car accessory in the world." HEED is the world's first device of this type, and promises to become every driver's must-have gadget. No more missing out on beautiful scenery on a road trip, or arguing with other drivers about who's at fault in an accident.
Before arriving at the current design, HEED went through several changes and multiple versions because the team had to take into account the mechanical challenges in the car and convenience for everyday use, as well as the design of modern smartphones. With smartphone designs moving toward edge-to-edge displays, mechanical support such as clips and holders could have damaged or effected the phone's display. For this reason, the team decided on the implementation of gel pads in conjunction with a sleek and strong design that can withstand sudden braking, acceleration, and rough driving conditions.
To use the dash cam feature, all a driver needs to do is affix HEED to their windshield or dashboard, then place their phone on the mount. HEED will capture everything, while simultaneously allowing the driver to use navigation and music apps without any hassles. Along with the dash cam and wireless charging, HEED also has other beneficial features, such as a "Priority List" that allows a driver to only receive calls from their preset priority list while driving, as well as a "Mute Alerts" feature that allows a user to mute alerts from other apps in order to limit distractions.
The team at HEED has been working very diligently on all of the essential groundwork for their device, and they are now ready to begin the process of bringing HEED to market, which is why they have launched their Kickstarter campaign, and hired a team of crowdfunding specialists to help them spread the word. As an added bonus with this campaign, the team is offering supporters the opportunity to pre-order HEED at a savings of up to 40% off. The device can be pre-ordered from a single HEED (complete with all accessories) to a "Family and Friends Pack" of 5 units. Each HEED comes with: the free HEED App, HEED (Car mount), Wireless Charge Receiver and a 3-meter USB Cable. The team has a projected delivery time frame of November 2017, with no anticipated delays. Full details can be found on the Kickstarter campaign page.
About HEED:
HEED is an innovative dashboard dock and app system that transforms a smartphone into a dash cam and much more. It is a product of Texas-based Geek Ventures Inc., a company that focuses on awesome and amazing new innovations for everyday items.
To learn more about the HEED crowdfunding project, Click Here
For more information about HEED, Click Here
To contact via email, write to Basavaraj at: basava.geek@gmail.com
To learn more about the team of specialists at Smart Crowdfunding, Click Here
Source: Geek Ventures Inc.
Related Media
Additional Links