Taechyon's 'Septaer' Breaks the Mold of the Talking AI Speaker Gold Rush
Press Release
•
updated: Oct 13, 2017
With a Wrapround Display and a 360 Degree Camera on Top, the Septaer is a Beautiful Smart Omni-Display Speaker for Your Home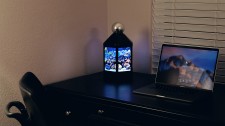 SACRAMENTO, Calif., October 12, 2017 (Newswire.com) - A full wraparound 360-degree display and full 360-degree camera make Taechyon's "Septaer" an eye-catching centerpiece for family and home entertainment. Septaer is designed to be viewed from any side with its omni-directional display technology and has large high-end speakers to let users control room ambiance and environmental lighting according to a user's mood. Septaer will offer the current smart speaker AI capabilities of an Alexa, Google Home or Cortana, as well as Septaer-to-Septaer full room video conferencing, entertainment and sharing of user-created interactive characters and content.
"Instead of everyone staring at a TV or phone screen, users will be facing each other when interacting with the Septaer instead of looking away from each other. Modern games can be played as the centerpiece of the table like traditional board games. Other flat-screen devices seem to pull attention away from family interaction. I am hoping families facing each other interacting with a single device viewable from all sides will bring families closer together," said Steve Favis, CTO of Taechyon Robotics Corporation.
Instead of everyone staring at a TV or phone screen, users will be facing each other when interacting with the Septaer...

Steve Favis, CTO
"What is exciting about Septaer is that it can be placed anywhere in the room. When the user is not actively using Septaer, the Septaer becomes a fish tank, fireplace, lava lamp, beach scene, rain-forest or starry nights with room-filling audio and visual effects to set-up the ambiance for our happiness and environment. However, when we wake it up with a voice command, Septaer delivers all the typical voice-based home utility, security, and entertainment functions. Alexa, Google Home and Cortana have done an excellent job of providing a wide variety of voice-based user interactions and functionality for the early devices which will be available with Septaer. The next generation obviously is to audio-visually interact with entertainment, news, maps, stock tickers, charts and spreadsheets etc., from any side of the device. Interaction can happen from anywhere in the room with right ambiance and mood irrespective of if we are at home with family or in office with co-workers," added Dr. Deepak Srivastava, the CEO of Taechyon.
Taechyon will release a series of demos of Septaer prototypes during the fall of 2017 and is working with a hardware manufacturing partner for the first shipments of Septaer by summer of 2018.
For Inquiries Contact Steve Favis 916.514.9096
Demonstration video: https://youtu.be/c4PY1-BXsMw
Source: Taechyon Robotics Corporation
Related Media
Tags