Taechyon Robotics Closes $1M Seed Round by 'Gamification' of AI in Social Robots for Entertainment and Engagement
Press Release
•
updated: Apr 28, 2017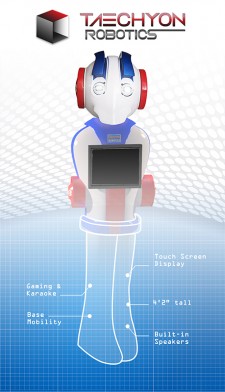 Sacramento, CA, April 28, 2017 (Newswire.com) - Taechyon Robotics Corporation has closed their seed round of $1 million by a strategic single principal investor, Shenzen O-film Tech Co Ltd (002456:CH).
Taechyon Robotics' flagship product b08 the Robot is a social robot designed for home entertainment, companionship, and utility functions. Taechyon's key technology includes introducing interchangeable multiple interactive personalities in a single robot with conversational AI that is trained and customized via crowd-sourcing and gamification.
"What separates our technology from other social robot competitors is that we leverage existing consumer channels such as the iOS App Store, Google Play, Facebook and Steam VR to make a game out of training the AI."

Steve Favis, CTO
"What separates our technology from other social robot competitors is that we leverage existing consumer channels such as the iOS App Store, Google Play, Facebook and Steam VR to make a game out of training the AI with entertaining chat responses. In the beginning, our AI chat response system will start like others — rough and choppy; however, eventually the chat capabilities are going to become entertaining, creating hyper-engaging, witty, yet endearing robot personalities," said Steve Favis, CTO and Co-founder of Taechyon.
Taechyon's technology will allow users to develop their own robot personalities, share them with other users, and even sell them in future robotic personality markets. Users can help shape the b08 personality type they really want for themselves, unlike other current systems in which individual users do not have the ability to customize their robots with their own content and responses as per their taste. There is a human catering or moderation element involved at the backend, which prevents the 'trolling' of the developed AI personalities, similar to what happened to Microsoft's Tey Chatbot on Twitter. Taechyon has just released a silent launch of the first b08 training game on the iOS App Store for user acceptance testing and server stress testing. Their first iOS app is called "b08 the Robot with Watson."
"We are using IBM Watson's Speech recognition and token voice from the IBM Jeopardy challenge for our first interactive multiple-personality Chatbot App combo. Some responses in our multiple personality Chatbot are answered by the talking comedic head b08, while the others by the more seriously trained computer Chatbot we call the 'Talking Tummy TV'. This will allow us to literally write endless comedic dialogues between these two personality elements or even more in a single robot. We will introduce and offer other known smart voice interaction systems such as Amazon's Alexa or Wolfram Alpha type personalities to our users as well. If any smart voice interaction system is available commercially to us, we can launch and deliver it as a personality within b08 as well. Our robot will have home IoT, utility, security, video conferencing, and control features similar to other social home robots entering the market. In addition, our premium models will have premium computer hardware for gaming such as high-end Intel CPUs and NVIDIA's Pascal Graphics Cards. After all, if a Robot has a computer inside, we might as well allow users to play high-quality blockbuster video games on the robot and with robot personalities as well. There are more capabilities coming up, but we will release those as we make progress," said Steve as his face lit up in excitement.
"We connected with O-film in October of 2016. We are very fortunate to have O-film recognize the potential in the scope of our technology and the ability of the team very early on. They decided to make a strategic investment in us for the whole amount of $1M allocated for the seed round. We are excited that as our strategic partner, they bring critical components and large-scale manufacturing experience to the table," said Dr. Deepak Srivastava, CEO and co-Founder of Taechyon. "The seed round investment will be mainly used for on-boarding the team, signing up early customers and developers through our iOS App, and exhibiting moving, talking, and entertaining b08 robot prototypes at various Silicon Valley locations during the summer and fall of 2017. We will start booking pre-orders during the fall of 2017, with early beta shipments scheduled for the summer of 2018. For the next round of funding, I am already looking for other global strategic partners from the AI chip hardware, consumer appliances and electronics, telecom, gaming, and digital media entertainment companies," added Dr. Srivastava.
Shenzen O-film Tech Co Ltd (002456:CH) is a global tier-1 manufacturer of Cameras, Displays, and Sensors of various types www.o-film.com. Michael Yoo, Head of Innovation Center of O-film, USA said, "Taechyon Robotics has unique features and a great growth potential in the near future. Their home entertaining/social robots provide a great opportunity for integrating all state-of-the-art technologies in Cameras, Displays, and Sensors with AI and the related software in the exciting new markets."
Media Contact
Steve Favis, info@taechyon.com
Source: Taechyon Robotics Corporation
Related Media
Additional Links