Syncari Sets a New Standard in Customer Data Automation With SyncAI
Press Release
•
Jul 13, 2023
New Capabilities Elevate the Data Potential of Go-to-Market Teams by Bringing Generative AI to No-Code Automation, Analytics, and Data Management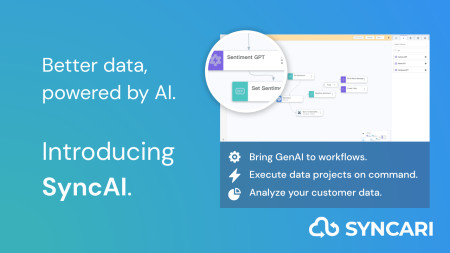 SAN FRANCISCO, July 13, 2023 (Newswire.com) - Syncari, a leader in no-code Customer Data Automation and Revenue Operations, is excited to announce SyncAI, a suite of capabilities that extends its platform and revolutionizes how businesses align, analyze and activate customer data. The first release of this new suite includes InsightsGPT, PipelineGPT, and ActionGPT, enabling revenue teams to analyze customer data through conversation, execute data automation with natural language prompts, and bring Generative AI-powered actions into workflows.
InsightsGPT: Analyze Customer Data Through Conversation
With InsightsGPT, users can ask questions about sales pipeline, customer health or marketing campaign performance and receive reliable answers based on unified data from every system in the customer journey. InsightsGPT can provide specific data points, visualizations, and charts that can be easily shared with others.
PipelineGPT: Execute Data Automation on Command
Syncari has already simplified data management and automation with a no-code, no-SQL interface. Now, with PipelineGPT, we bring the best practices we've learned from working with hundreds of enterprises to the fingertips of every operations professional. Simply state a goal such as "Dedupe my Salesforce contacts," "Enrich Hubspot accounts with Clearbit" or "Unify Salesforce accounts with Netsuite companies." Then, use natural language to build, test, and publish the necessary data pipelines and workflows, utilizing customizable templates informed by current customer and partner deployments.
ActionGPT: Bring Generative AI-Powered Actions Into Workflow and Data Automation
Leveraging Syncari's no-code custom actions, users can create Generative AI prompts that reference specific objects or fields in the unified data model. Apply the output of these prompts to augment data, normalize values, summarize notes or explore other use cases. Syncari also provides PHI/PII detection and masking to ensure customer data privacy and security.
"We founded Syncari with a vision to deliver data interoperability across core business data hubs and edge applications," said Neelesh Shastry, CTO and co-founder of Syncari. "The desire for AI to be deployed everywhere successfully creates a new mandate for consistency that isn't achievable without the type of data and schema management our platform provides. Only Syncari can prep and maintain high-quality data everywhere, automatically."
AI High Performers Adopt No-Code Data Automation Platforms
According to McKinsey's "The State of AI in 2022" Survey, AI high performers are 1.6 times more likely than other organizations to engage non-technical employees in creating AI applications using emerging low-code or no-code programs. They are also more likely to automate most data-related processes, improving efficiency in AI development and expanding the number of applications they can develop by providing more high-quality data to feed into AI algorithms.
This first release of SyncAI brings Generative AI to data management, automation, and analytics in one no-code platform, empowering go-to-market teams to operate with high-quality data — across the customer journey and within every AI investment.
To learn more about SyncAI, visit https://syncari.com/SyncAI.
Source: Syncari