Sweltering Heat Increases Chances of AC Units Failing
Press Release
•
updated: Aug 2, 2019
How to Know if Your AC is at Risk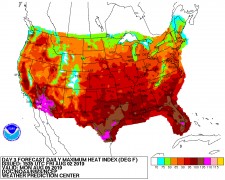 DALLAS, August 2, 2019 (Newswire.com) - ​​​​This has been one of the hottest summers on record for the United States. With heat advisories being issued on a nearly weekly basis, medical experts recommend that residents remain indoors in an air-conditioned environment, especially between the hours of 10:00 am – 4:00 pm. But with the temperatures rising, the air conditioning experts at billyGO know that the chances of an AC system failing rise, too – right when a homeowner needs it most.
In simple terms, air conditioning removes heat and humidity from the air inside a home and releases it outside, making the inside air cooler and more comfortable. Central cooling systems include a whole-house air conditioner, heater (furnace) and a duct system and blower fan that circulates the treated air throughout your home.
Air Conditioner – consists of compressor and condenser unit outside working with evaporator, air handler, ductwork and blower fan inside, plus the refrigerant and tubing it circulates in between the inside and outside equipment.
Air Circulation System – includes the ductwork that distributes cooled or heated air throughout the house and returns it back to the heating and cooling equipment, the air handler and blower fan. The air filter is placed where return air reenters the heat exchanger.
Thermostat – located in the living area, this device regulates temperature by signaling the heating or cooling equipment the set temperature.
The higher demand on the system takes its toll, increasing the risk of the system breaking down – especially if that system is over eight years old. At billyGO, the most common calls for repair in triple digit heat are attributed to:
Refrigerant leaks
Overheating of the fan motor and/or compressor
Fatigued parts failing
Clogged condensation drains
Most homeowners – especially those in warmer climates – will have their central air conditioner running overtime from June into October. Central air conditioning systems are designed to suit the size of the home in which they are installed and the amount of air they need to cool or heat. The size of the specific unit is chosen to be efficient for 98% of the typical high temperatures in their installed climate. This means that for that 2% extreme temperature, like what homeowners across the US have been experiencing, their air conditioner unit may be undersized – by design!
Why do air conditioning units break?
It has not had a proper tune-up and isn't prepared for the 24/7 running cycle
It overheats, tripping the circuit breaker
It is old
Most HVAC equipment manufacturers say to expect central air conditioning equipment to last 15-20 years, but the extreme temperatures in Texas shorten the lifespan of most AC units. After eight years, most units in DFW start needing more frequent and expensive repairs before ultimately needing to be replaced.
In some cases, it actually makes more financial sense to replace a home's AC system sooner than anticipated. Recently manufactured AC systems are more efficient and can keep homeowners more comfortable while also helping them save money on utility bills.
Not sure if an air conditioning unit needs to be repaired or replaced? The licensed, NATE- and EPA-certified technicians, who are employees not contractors, at billyGO can help. Homeowners can schedule a guaranteed, one-hour APPointment with billyGO and have a highly-qualified technician determine if its time for a tune up or replacement and review the short-term versus long-term benefits of both.
It is not too late to schedule an A/C tune up APPointment with billyGO which not only addresses potential problems but also helps avoid more costly repairs later down the line. Homeowners, can rely on billyGO to meet all of their air conditioning needs in DFW with services including repairs, retail sale of new units (with 0% financing options) installations, replacements, air-filtrations, sealing, air quality testing and filter replacements. Additionally, billyGO is providing an instant rebate for up to $2,500 on any new AC unit purchased in the month of August.
With Aug. 6 through Aug. 15 anticipated to be the hottest days for DFW, billyGO is making it easier than ever for DFW residents to ensure their air conditioning system can beat the heat. Through their free mobile app, powered by serviceSHIFT, homeowners can select a one-hour APPointment window when they want their technician to arrive and billyGO guarantees their skilled technician will arrive on time, or they will credit their customer's bill for every minute they are late.
To learn more about how central heating and cooling systems work, please visit the billyGO blog, https://www.billygo.com/how-central-heating-and-cooling-systems-work.
Download the free billyGO app from iTunes or Google Play to schedule an APPointment in fewer clicks than it takes to dial a ten-digit phone number. For more information about billyGO, go to https://billygo.com. Visit them on Facebook, Twitter, Instagram, or YouTube or by phone at 817-873-0717.
###
About billyGO
App-based billyGO is revolutionizing plumbing/HVAC service and repair by putting customers in charge of their time with service by APPointment. The proprietary mobile app, powered by serviceSHIFT, manages all aspects of the business including 24/7 scheduling, algorithm-based dispatching, transparent flat-rate pricing, immediate invoicing and secure payment processing. billyGO offers full-service plumbing and HVAC services with flat rates and guaranteed pricing while employing skilled tradesmen who do not work for commission and therefore focus on serving, not selling. With a 99% response rate to their guaranteed one-hour appointment window and zero dispatch fees, billyGO is streamlining the plumbing and HVAC industries while passing cost savings back to their customers. State Plumbing License 38424 Jeff Sims RMP –TACLB41879E.
Media Contact:
Ann Littmann
​TrizCom PR
Ann@TrizCom.com
Office: 972-247-1369
Cell/Text: 832-746-1182
Source: billyGO
Related Media
Additional Links