Beat the Heat With billyGO's New Air Conditioning Services
Press Release
•
updated: May 24, 2019
Stay Cool and Save Big with billyGO Now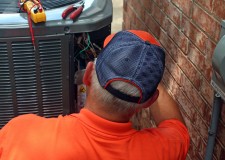 DALLAS, May 24, 2019 (Newswire.com) - ​​​​As summer approaches, that heat that Texas is known for is just around the corner, which means an increase in the need for cool air to combat the sweltering heat. Having a working air conditioner is a staple item in many households, but after non-use in the winter months, it is important for Dallas residents to ensure their AC units are running optimally. App-based billyGO, the highest customer-rated plumbing business in Dallas-Fort Worth, is now offering air conditioning and heating services.
The newest addition to billyGO's line of services provides the opportunity for customers to have a tune-up performed on their AC units. No one wants to find out their AC unit is not working during the heat of the day and then have to wait for hours in a sweltering house for an AC technician to arrive. DFW residents can beat the heat by having a qualified AC technician look for important indicators that signal that it is time for maintenance. Anything can go wrong with air conditioners, ranging anywhere from not cooling properly to making strange noises or emitting odors and leaks. Issues like these can contribute to health issues from a humid house by causing mold growth and bug infestations – in addition to making homeowners miserable in the Texas heat.
To prevent ongoing issues, billyGO takes important measures to identify these problems and fix them quickly and efficiently by allowing customers to schedule their home repair and services at a time convenient for them. Through their free mobile app, powered by Service Shift, customers can select a one-hour appointment window when they want their technician to arrive and billyGO guarantees timeliness with a skilled technician who presents options, recommendations and transparency for home-repair treatments. Services for air conditioners include air conditioning repairs, installations, replacements, air filtrations, sealing, air quality testing, filter replacements and more. Scheduling an air conditioning appointment not only addresses potential problems but helps avoid costly repairs later down the line.
The efficiency of the billyGO app powered by Service Shift also enables customers to enjoy even larger cost savings with the average cost of their services coming in 30 percent lower than the competition. The experts at billyGO will service each AC unit in a customer's home for $79, but they also provide even more savings through their membership-based service billyGO Now. For only $99, billyGO Now members will have all the AC units in their home tuned up before summer as well as having their heaters tuned up in the fall.
The new service can be booked online or through the billyGO app where scheduling is quicker than dialing a 10-digit phone number to schedule. Direct communication between homeowners and technicians through billyGO saves customers from redundant appointment processes, exorbitant dispatch fees and the traditional four-hour wait-time window. The billyGO app also eliminates inefficiencies and streamlines the HVAC/plumbing business. Real-time GPS tracking and scheduling algorithms eliminate the need for dispatchers, thus, limiting overhead costs and allowing for cost savings to be passed to the customer.
The experts at billyGO are putting integrity back into the home repair industry by solving problems instead of selling solutions. All technicians are background-checked employees that are certified, licensed and trained to adequately ensure they meet billyGO's standard for excellence.
For more information about billyGO, go to https://billygo.com/, visit them on Facebook, Twitter, Instagram or YouTube or by phone at 817-873-0717. Download the billyGO app from iTunes or Google Play to schedule an APPointment.
About billyGO
App-based billyGO is revolutionizing plumbing/HVAC service and repair by putting customers in charge of their time with service by APPointment. The proprietary mobile app, powered by Service Shift, manages all aspects of the business including 24/7 scheduling, algorithm-based dispatching, transparent flat-rate pricing, immediate invoicing and secure payment processing. billyGO offers full-service plumbing and HVAC services with flat rates and guaranteed pricing while employing skilled tradesmen who do not work for commission and therefore focus on serving, not selling. With a 99% response rate to their guaranteed one-hour appointment window and zero dispatch fees, billyGO is streamlining the plumbing and HVAC industries while passing cost savings back to their customers. Further information is available at https://billygo.com/ or on Facebook, Twitter, Instagram or YouTube or by phone at 817-873-0717. State Plumbing License 38424 Jeff Sims RMP –TACLB41879E.
Media Contact:
Ann Littmann
​TrizCom PR
Ann@TrizCom.com
Office: 972-247-1369
​Cell/Text: 832-746-1182
Source: billyGO
Related Media
Tags
Additional Links