Sustainable Companies Become 100% Employee-Owned as an ESOP (Employee Stock Ownership Plan)
Press Release
•
May 16, 2023
Sister companies New Energy Works and Pioneer Millworks become 100% Employee-Owned under a single ESOP (Employee Stock Ownership Plan).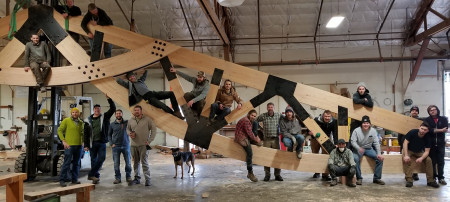 FARMINGTON, N.Y., May 16, 2023 (Newswire.com) - New Energy Works and Pioneer Millworks, based in Farmington, New York, and Portland and McMinnville, Oregon, becomes 100% Employee-Owned as an ESOP (Employee Stock Ownership Plan).
From their design studios, production shops, and mills in New York and Oregon, New Energy Works designs, crafts, and builds sustainable timber frame custom homes, commercial buildings, and high-performance enclosures throughout North America. Pioneer Millworks is a leading manufacturer of reclaimed and sustainable wood flooring, paneling, siding, and decking for the building industry.
This transition from founder/owner Jonathan Orpin, who remains CEO of the Companies, to Eric Fraser as COO & President, was years in the making. The companies have also restructured leadership roles as they transition from single ownership to employee-owned with the formation of a C-suite and ESOP board of directors, as well as governance changes.
"I've long said what makes the ESOP a good fit for us is that our folks have always had an ownership mentality," said company founder Jonathan Orpin. "I'm excited to make this transition in a democratized workplace with my coworkers, which has long been a goal of mine, but especially now as employees are increasingly seeking greater equity in the workforce."
An ESOP is an employee benefit plan that enables coworkers as a group to own interest in part, or all, of a business in the form of shares of stock. It is also a type of Trust that acts as a retirement plan, similar to a 401K, by investing in company stock and holding its assets in the Trust for employee-owners.
"As a way for founders/owners to form a succession plan for their businesses, choosing to transition to an ESOP so employees can carry the business into the future is a very progressive and thoughtful option with proven success rates," Jonathan explained. "I hope more business owners consider it."
In total, there are approximately 6,467 ESOPs in the United States, holding total assets of over $1.6 trillion with over 13.9 million participants, according to the NCEO.
Having long operated on the triple bottom line—a simple belief that people, planet, and profit work together to ensure a better future, the New Energy Works & Pioneer Millworks transition to employee-ownership and a C-suite of executives & ESOP board of directors is intended to ensure the environmental and social commitments the business was founded on 30+ years ago continue far into the future.
New Energy Works & Pioneer Millworks ESOP Board Structure:
Internal Board Members: Jonathan Orpin — CEO & Chair of the Board; Eric Fraser — COO & President; Jonathan Taylor —Pioneer Millworks Operations; Deanna Varble — Marketing & Creative Director.
Independent Board Members: Stephanie Olexa, PhD, MBA — Lead to the Future; Newell Isbell Shinn — South Mountain Company.
For more information or editorial materials, please contact our Public Relations Manager: John Nevadomski - JohnN@NewEnergyWorks.com - 585.924.3860
Source: New Energy Works