New Energy Works Receives the First Shipment of Wood Fiber Insulation Made in the United States
Press Release
•
Aug 29, 2023
TimberHP launches North American sales of TimberFill, a loose-fill wood fiber insulation that can be blown in or dense-packed for high-performing, affordable, safe, and carbon-negative coverage in attics, wall cavities, floors, and ceilings with first shipment to New Energy Works.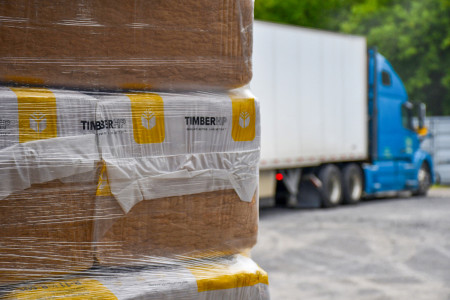 ROCHESTER, N.Y., August 29, 2023 (Newswire.com) - New Energy Works receives the first shipment of wood fiber insulation made in the United States. This first shipment of TimberFill arriving from the TimberHP manufacturing facility in Madison, Maine, to New Energy Works Design + Build, Timber Frame, and High-Performance manufacturing facility outside of Rochester, New York, demonstrates New Energy Works' commitment to utilizing wood as a primary sustainable building material in an effort to address climate change.
This first shipment marks the beginning of sales for TimberHP's wood fiber insulation product, TimberFill, for the North American market. TimberFill, a loose-fill insulation, can be blown in or dense-packed for high-performing, affordable, safe, and carbon-negative coverage in attics, wall cavities, floors, and ceilings.
"The team at New Energy Works are among the pioneers who believed in the products we're bringing to market and who can offer immediate credibility to what we're doing for a portion of the industry hungry for better building envelope solutions," said Matt O'Malia, Co-Founder & Vice President of TimberHP. "There's an amazing story to tell with the New Energy Works team about evoking change in the built environment that helped improve product availability and price point through domestic manufacturing."
From their design studios, production shops, and mills in New York & Oregon, New Energy Works designs, crafts, and builds sustainable timber frame custom homes, commercial buildings, and high-performance enclosures throughout North America. New Energy Works is 100% employee-owned as an ESOP (Employee Stock Ownership Plan) and has operated on the triple bottom line—a simple belief that people, planet, and profit work together to ensure a better future—for over 30 years.
Moving forward, TimberHP will be selling TimberFill through a variety of channels, including Cameron Ashley Building Products, Service Partners, General Insulation, IDI, Global Wholesale Supply, and numerous independent lumber dealers across the Northeast—with trailer truckloads leaving the company's manufacturing plant, a repurposed and renovated former paper mill in Madison, Maine, weekly.
"This first product shipment from TimberHP reflects our shared commitment to sustainable solutions to climate change manufactured and utilized domestically," said Jonathan Orpin, New Energy Works Founder & CEO. "The accessible wood-fiber insulation products that TimberHP is producing are a groundbreaking step in American manufacturing, and will help our team build more sustainable, carbon sequestering, and forward-thinking structures for our clients, helping both people and planet in the process."
TimberHP manufactures high-performing wood fiber insulation that is environmentally friendly for people and the planet. Made with renewable resources, their products are resistant to moisture liabilities, mold and fire, and offer superior properties to reduce heating and cooling loads. Tried and trusted, wood fiber insulation is cost-competitive and has been manufactured and used in Europe for decades. Manufactured domestically at their factory in Maine, TimberHP supports the working landscape, sustainable forestry, and our rural economy.
Utilizing TimberHP's new line of domestically manufactured wood fiber insulation, New Energy Works will continue to collaboratively adapt their HPEz (High Performance Made Easier™) enclosure systems to the design specifications of each project they work on, partnering with architects, builders, and homeowners, resulting in an accessible enclosure solution for high-performance and Passive House construction nationwide.
Learn more:
TimberHP | American Wood Fiber Products
High Performance Building Enclosures | New Energy Works
Source: New Energy Works