Super Star Style Expert Brittney Levine Shares Seasonal Beauty Tips on TipsOnTv
Press Release
•
Sep 29, 2023
Fashion and Lifestyle Expert Brittney Levine Shares the Newest Trends and Products That Everyone is Talking About for Fall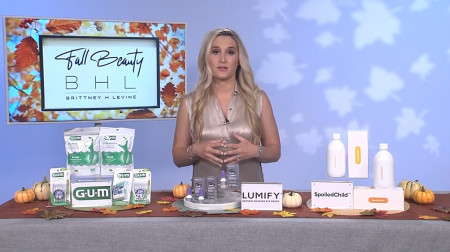 ATLANTA, September 29, 2023 (Newswire.com) - The seasons are changing, and so are the hot products and styles that are trending. Style and fashion expert Brittney Levine shared some timely tips and products to create a fabulous fall look for every autumn occasion. From the runway to running errands, Brittney regularly presents her beauty and style expertise on network TV shows. Here are some simple and affordable changes this time of year that can help anyone adapt to changing weather and humidity to look their best.
STAND OUT THIS FALL
Beauty starts from within, but to really stand out this fall, start with taking care of the smile. A surprising 70 percent of people do not floss on a regular basis, which can really impact overall health and wellness. For healthier teeth and gums, dental professionals recommend GUM inter-dental products that reach where a toothbrush can not. Their Soft-Picks Advanced have soft, rubber bristles that are perfect for an everyday gentle clean, and they are proven to be as effective as floss in removing plaque. Soft-Picks Advanced is a perfect addition to any daily oral care routine. For more information, visit www.gumbrand.com
BEAUTIFUL LOOKING EYES
With runway and red carpet season in full swing, beautiful looking eyes are a key part of any look. Just like prepping skin before makeup, if eyes are red, try this little secret. LUMIFY redness reliever eye drops from Bausch + Lomb. LUMIFY significantly reduces redness in one minute to help eyes look whiter, brighter, and more radiant for up to eight hours; always make sure to use as directed. Find LUMIFY in the eye care aisle at major retailers nationwide. For more information, visit www.lumifydrops.com
SUGGESTIONS FOR SKINCARE
After the age of 25, the body's collagen production slows down. To combat that, try SpoiledChild's E27 Extra Strength Liquid Collagen. It supports inside and out wellness, including skin elasticity, hair and nail health, gut, joint and bone health. With a blend of the highest-quality collagen to replenish collagen in the body, SpoiledChild is packed with Vitamin C and Hyaluronic Acid, a key collagen booster that hydrates and improves skin elasticity. It is available in mango and pineapple flavors. For more information, visit www.spoiledchild.com
About TipsOnTV
TipsOnTV covers a variety of topics, including food, entertaining, personal finance, technology, travel, health, lifestyle and more.
Source: TipsOnTV