Sunrise Hitek's HandySign Revolutionizes Portable Advertising
Press Release
•
Nov 1, 2016
Sunrise Hitek's innovative HandySign is at the cutting edge of handheld signage. This sign is unique in that it is a substantial size, lightweight and easy to hold https://www.sunrisehitek.com/product/handysign.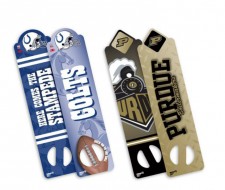 Chicago, IL, November 1, 2016 (Newswire.com) - Signage at events can be tricky. Signage needs to be prominent so that it can be seen, but it also needs to be portable. Oftentimes venues are static, or signage needs to be repurposed again and again. Businesses are always looking for ways to save money, and to get their brand out into the world. Sunrise Hitek's checks off all of these needs with their innovative HandySign.
Sunrise Hitek's light-weight, hand-held HandySigns are a great way to announce any message to the world! These specially designed die-cut signs have a convenient handle built in. The ergonomic built-in handle makes a sign that would otherwise be to unwieldy to be carried, a breeze for anyone to hold on display https://www.sunrisehitek.com/product/handysign. The convenient die-cut handle makes holding the sign with one hand super easy and the standard handle size of 2"x4.5" offers a solid grip, but with convenient in-house Contour cutting, signs can be cut to virtually any shape using a supplied electronic die-line.
Their portability allows for them to be used again and again, anytime, anyplace.

Patti Elliott, Marketing, Sunrise Hitek
These signs were designed with durability in mind. They are made to take a beating from the elements and won't crack, rip, or fade. Sunrise prints them on light-weight coroplast which is waterproof and weather resistant. They also print using vibrant UV ink that won't fade, run, or chip away. For maximum visibility these signs can be printed single or double-sided.
Usage options for the HandySign are limitless. Popular uses are of course as directional signage at eventa such as conventions or other large meetings. A second popular use is to show pride at a sporting event or to show support for a political candidate. A third, and possibly, best use, it for advertisemtn of a new business or product. Their portability allows for them to be used again and again, anytime, anyplace.
About Sunrise Hitek Group, LLC.
Sunrise Hitek https://www.sunrisehitek.com/ is an Inc. 5000 company established in 1988 and employs the most advanced equipment and technology, such as G7-certified HP Indigo and UV flatbed presses, laser engraving, and digital die-cutting, to create best-in-class color printing, short-run packaging, P.O.P. retail displays, and signage products. A privately-owned enterprise, the company is based in Chicago and sells products worldwide.
Source: Sunrise Hitek Group, LLC
Related Media