Sunrise Offers Fast Trade Show Displays and Low Cost Packaging With Huge Digital Cutter
Sunrise Hitek is pleased to debut their new Zünd G3 Cutter with Tandem cutting capability. The enormous 10'x10' table size has the ability to cut among the largest single-piece signage in the world, enabling customers to produce bigger graphics than ever before, with intricate cutting not possible previously. The company's website showcases many innovative display graphics and packaging products.
Press Release
-
updated: Mar 8, 2017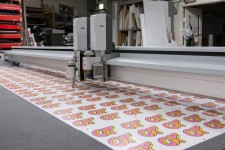 Chicago, IL, March 8, 2017 (Newswire.com) - Sunrise Hitek's new 10ft. Zund Tandem Cutter is the ultimate in digital die-cutting. This new addition is not only a top-of-the-line CNC-router, the tandem component cuts idle time meaning increased productivity. This is accomplished by forward and rear vacuum zones to allow the machine to keep 2 different set-ups on the same machine. In effect, the cutter works non-stop on one half of the table while the other half is being prepared, significantly increasing throughput and cutting down production time. In short, tandem mode enables Sunrise to speed up production and lower labor cost, while providing faster turnaround, so those boxes will not only be produced quickly and more efficiently, but also cheaper. Another exciting feature on this model is its high-speed router with automatic tool changer which allows cutting of thicker, denser material than previously available on Zünd cutters.
Custom Packaging is a breeze with this cutter as well. The Zünd Tandem Cutter does both die-cut and score in-line. Due to the enormous size of this cutter, boxes that were previously impossible to create, can now be brought to life. Oftentimes packaging houses have extremely high minimum orders so digital die-cutting is a great solution for prototype packaging and small runs. Another packaging house issue is long wait times sometimes up to 10 weeks! Digital orders take significantly less time, as little as 3 days! At Sunrise Hitek, even complex box projects can go from concept to production to shipping in just a few days, with competitive prices.
An article from Large Format Review boasts the benefits of the revolutionary tandem system. Upon describing the tandem feature option they go on to say: "Material loading/unloading and processing occur concurrently on alternate sides of the machine, allowing for completely uninterrupted production. This setup is indispensable in production scenarios where every second counts, e.g. for efficiently and economically completing last-minute orders with tight delivery schedules.
This cutter also has a wider table area to accommodate grand format rolls that are 10+ feet, common on large format flatbed presses such as Sunrise's Swiss Q Nyala, which has an enormous 10ft x 5ft print bed. Pieces that previously had to be printed in panels can now be done in one solid piece. This 10ft square cutting table is one of the biggest in the industry, meaning Sunrise can produce the largest pieces on the market. Imagine custom-cut large format pieces such as POP displays, tradeshow graphics, step-and-repeat backdrops, pole signs, counter displays and more on an endless variety of materials!
About Sunrise Hitek Group, LLC.
Sunrise Hitek  was established in 1988 and employs the most advanced equipment and technology, such as G7-certified HP Indigo and UV flatbed presses, laser engraving, and digital die-cutting, to create best-in-class color printing, short-run packaging, P.O.P. retail displays, and signage products. A privately-owned enterprise, the company is based in Chicago and sells products worldwide.
Source: Sunrise Hitek Group, LLC
Share:
---
Categories: Publishing and Printing, Conventions, Trade Shows, Meetings and Events, Commercial Art
Tags: die-cut, die-cutter, digital printer, flatbed printer, laser cutter, Nyala, Swiss Q, Zund
---