Summer Outside the City at Verde Canyon Railroad
Press Release
-
updated: Jun 8, 2017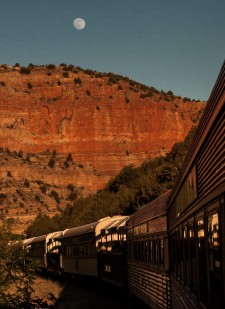 Clarkdale Sedona Verde Valley, AZ, June 8, 2017 (Newswire.com) - Miles from hot pavement and city concrete, Verde Canyon Railroad offers an Arizona summer experience as it was meant to be. Disconnected from technology, traffic and congestion, the wild canyon country of this Sedona-area adventure follows the cool green ribbon of the Verde River, nestled under towering red rock cliffs. Awe-inspiring scenery, soaring raptors and well-appointed accommodations make the perfect antidote to summer in the city.
A treasured bit of history traversing a rare and scenic Arizona wilderness, Verde Canyon Railroad is a fresh view into the unspoiled heart of the West. Summer outside the city means there are no streets full of stop lights — instead, a sky full of stars.
On select Saturdays June through September, Verde Canyon Railroad adds an evening option to the usual daytime roster of rail trips with its popular Starlight tour. Departing at 5:30 p.m. during the cooler air of late afternoon, the Starlight trip encompasses a dramatic range of light and color through daylight, sunset, and moonlight. This season's Saturday Starlight rides are scheduled for June 10, July 8, August 5, and September 9. 
Sandwiched between two protected national forests adjacent to the Sycamore Canyon Wilderness, this historic train offers a great alternative to a hot afternoon hike during the summer, providing a wealth of wild scenery to be viewed while riding along in climate-controlled comfort. Cool river breezes, the sun-shaded open-air viewing cars and an ice cold Prickly Pear Margarita (or any of the signature cocktails), specialty craft beers or private-labeled wine in hand highlights the passenger experience. Monsoon season in late summer adds another layer of drama to the route, with seasonal waterfalls cascading into the canyon and rainbows filling the afternoon skies.
The caboose is a luxurious, private car for six. First-class cars boast plush seating, complimentary appetizers and a full-service bar. Coach offers vintage Pullman-style seating, panoramic windows and a snack bar. Everyone has access to open-air viewing cars offering 360-degree views and spectacular photographic opportunities.
A stone's throw from the hillside mining town of Jerome, Verde Canyon Railroad's Clarkdale depot is in the heart of the Verde Valley, a diverse crossroads featuring amazing adventures in every direction. Only two hours from Phoenix and 25 minutes from Sedona, Verde Canyon Railroad is the perfect Arizona day-trip. Reservations are accepted online at verdecanyonrr.com or at 800-293-7245.
It's not the destination; it's the journey
# # #
Contact: Teresa Propeck​
Reservations: 800-293-7245
​Phone: 623-374-3185
​www.VerdeCanyonRR.com
​tpropeck@verdecanyonrr.net
Source: Verde Canyon Railroad
Share:
---
Categories: Rail Roads, Tourism, Destinations, Vacations and Travel
Tags: adventure, arizona, full moon, railroad, sedonaarea, starlight, summer, train
---