Spring Blooms With Bunnies, Eaglets and Wildflowers Along Verde Canyon Railroad
Press Release
•
updated: Feb 5, 2018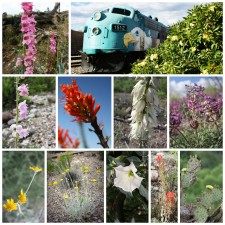 Sedona Clarkdale Verde Valley, AZ, February 5, 2018 (Newswire.com) - Beautifully nestled between the high country of Arizona's famous Colorado Plateau and the low elevations of the scenic Sonoran Desert sits Arizona's Verde Valley, a wonderland of geological riches including the red rocks of Sedona and the rare riparian ribbon of the Verde River. Curving between the Coconino and Prescott National Forests runs the historic tracks of the Verde Canyon Railroad.
This time of year the high desert awakens from its seasonal slumber, bursting with new life along the rails. Ancient cottonwoods sprout with fresh foliage, shading baby eaglets in their nests. A crescendo of wildflowers begins in March with low-growing locoweed in delicate purples and whites, arching taller towards the sun as the golden Desert Marigold and orange Globemallow take the stage in April. Prickly Pear Cactus flowers arrive in May, their waxy yellow blooms later giving way to rich red fruits. Open-air viewing cars make a wonderful vantage point for wildflower viewing, especially with Prickly Pear Margarita in hand. As spring edges closer towards summer , creamy white yucca blooms sway in the breeze along the rail route.
Springtime welcomes favorite annual highlights such as newborn baby eaglets, the ever-popular Easter Bunny Express and a festive celebration of Cinco De Mayo. The Black-tailed Jackrabbit, a Verde Canyon resident, may be one of the largest hares in North America but he's got nothing on Verde Canyon Railroad's resident rabbit, the Easter Bunny. On Sunday, April 1st, depot guests enjoy hugs, candy and photo-ops with the mischievous hare. The fun continues onboard as the winner of the jellybean counting contest is awarded a giant jar of candies to take along on the ride. On Saturday May 5th, Cinco de Mayo, a fiesta borrowed from our neighbors to the south, will feature a delicious Mexican-inspired luncheon on the depot patio prior to the train's afternoon departure.
Accessible only by these heritage rails, the Verde Canyon's rare riparian area comprises only 2% of Arizona landscape. Operating since 1912, the Railroad is right at home within its wild corridor, sharing the Canyon with javelina, mule deer, elk, coyote, bear, heron, turkey, bald eagles and a wealth of resident and migrating raptors. Bald eagles generally nest along the Verde River from mid-winter to late spring, with eaglets fledging their nests in mid-May.
The train provides a comfortable and exciting journey as it travels a leisurely four hours from the charming Clarkdale depot to the ghost ranch at Perkinsville and back. Awe-inspiring rock formations, historic trestles, a 680-foot tunnel, ancient cliff dwellings and soaring raptors are just a few of the trip's many highlights. First-class cars boast plush seating, complimentary appetizers and a full-service bar. Coach offers vintage Pullman-style seating, panoramic windows and snack bars. Everyone has access to open-air viewing cars offering 360-degree views and spectacular photographic opportunities.
A stone's throw from the hillside mining town of Jerome, Verde Canyon Railroad's Clarkdale depot is in the heart of the Verde Valley, a diverse crossroads featuring amazing adventures in every direction. Only two hours from Phoenix and 25 minutes from Sedona, Verde Canyon Railroad is the perfect Arizona day trip. Reservations are accepted at 800.293.7245 or online at verdecanyonrr.com.
It's not the destination; it's the journey.
Contact: Teresa Propeck
Reservations: 800-293-7245
Phone: 623-374-3185
​tpropeck@verdecanyonrr.net
Source: Verde Canyon Railroad
Related Media