Summarizing Hurricane Harvey's Environmental Impacts in the Houston-Galveston Region
Houston Advanced Research Center (HARC) and partners in the Houston-Galveston region mobilize to gather and analyze environmental impact data associated with Hurricane Harvey.
Press Release
-
updated: Oct 20, 2017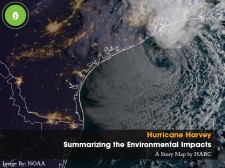 THE WOODLANDS, Texas, October 20, 2017 (Newswire.com) - Hurricane Harvey brought record rainfall to the Houston-Galveston region and the Texas coast. After making landfall near Rockport, Texas as a Category 4 storm on Aug. 25, 2017, and lingering for more than four days, Harvey dropped more than 50 inches of rain in parts of Houston, leaving behind a devastated region. The impacts of the storm were far-reaching, including loss of lives, homes, and livelihoods.
In addition to the social and economic impacts, flood events raise short- and long-term environmental and public health concerns such as bacteria, oil, gasoline and chemicals in flood waters, toxics associated with Superfund sites, and air quality. Because of hazards associated with gathering environmental data during and in the aftermath of hurricane and flood events, the availability and analysis of environmental impact data is often an obstacle to better understanding effects of these extreme events. During and after Hurricane Harvey, a number of public and private organizations mobilized to gather environmental impact data relating to Hurricane Harvey. Project Lead Dr. Stephanie Glenn noted, "Having a resilient set of regional partners that were able to mobilize during and immediately after the storm and were then willing to make these datasets available to the public shows the strength of our community."
With support from Houston Endowment, the Houston Advanced Research Center (HARC) summarized available environmental datasets to detail impacts associated with Hurricane Harvey. HARC mobilized swiftly to work with regional partners to acquire and analyze data and information about the flooding and related impacts such as storm-related spills, pollutants, Superfund site impacts, water quality, air quality, and power generation. The resulting analysis is made available to the public through narrative summaries, maps, and infographics in an ESRI story map, Summarizing Hurricane Harvey's Environmental Impacts. Users can also download available raw data and learn about the organizations in the Greater Houston region that organized to gather environmental and public health impact data in the days immediately following Hurricane Harvey's landfall. 
For more information contact:
Dr. Stephanie Glenn, Hydrology and Watersheds Program Director, sglenn@harcresearch.org, 281-264-6042
Bill Bass, GISP, Geospatial and IT Manager, bbass@harcresearch.org, 281-364-6087
Source: Houston Advanced Research Center (HARC)
Share:
---
Categories: Non Profit, Environmental Protection, Geography, Environmental, Sciences
Tags: Air Quality, Data, Environment, Flooding, Health, Houston, Hurricane Harvey, Impact, Resilience, Story Map, Toxic, Water Quality
---