Houston Advanced Research Center to Host 2017 People & Nature Speaker Series
Featuring Bill Ritter, Jr., 41st Governor of Colorado and one of America's thought leaders on the Energy Revolution
Press Release
-
updated: Oct 23, 2017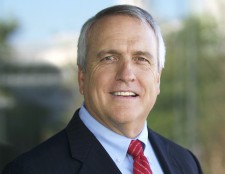 HOUSTON, October 23, 2017 (Newswire.com) - HARC (the Houston Advanced Research Center) will host Bill Ritter, Jr. distinguished author and 41st Governor of Colorado, as part of its 2017 People & Nature Speaker Series on Tuesday, Oct. 24, from 6:00-8:30 p.m. at the Museum of Fine Arts, Houston Brown Auditorium. The event will feature a lecture given by Governor Ritter, followed by a Q&A session and cocktail reception.
Governor Ritter will articulate a vision of the energy revolution — the future of fossil fuels and renewable energy, as he speaks to: Powering Forward – What Everyone Should Know about America's Energy Revolution. Governor Ritter is recognized for establishing Colorado as a national and international leader in clean energy. As governor, he signed 57 new energy bills into law, including a 30% Renewable Portfolio Standard and a Clean Air Clean Jobs Act that replaced nearly a gigawatt of coal-fired generation with natural gas. In 2011, he founded the Center for the New Energy Economy (CNEE) at Colorado State University where he serves as Director. The Center works directly with governors, legislators, regulators, companies and stakeholders by providing technical and strategic assistance to help decision makers create policies that facilitate America's transition to a clean energy economy.
As home to a number of the world's largest and most active oil and gas companies, Houston is known as the "Energy Capital of the World." Texas also leads the nation in installed wind energy capacity and is seventh in the nation in solar with a growing portfolio. Texas and Houston are national leaders in green building with more than 6,000 LEED certified projects in Texas and more than 900 in Houston. Houston is poised to lead Texas in an energy transition of its own with the advent of new technologies such as microgrids and distributed energy, battery storage and the development of new financing programs such as Property Assessed Clean Energy (PACE).
 "The People & Nature Series is intended to stimulate conversations between renowned experts, decision makers and the public, to trigger community engagement and inspire people to address various sustainability issues in greater Houston region," said Lisa Gonzalez, President of HARC. "We are delighted to have Governor Ritter share his vision and expertise with the greater Houston community. Given the importance of the energy sector in our regional and state economy and its role as an international and national energy leader, Houston will play a major role in the transition to clean and renewable sources of energy. We believe Governor Ritter's unique perspective and contribution to the conversation will facilitate future discussions between decision makers, industry and the public."
Tickets to this event can be purchased online at http://bit.ly/2ftGaz3; prices are $20 for general admission with free admission for students. For more information about HARC visit http://www.harcresearch.org. Event sponsors include the Jacob and Terese Hershey Foundation.
#   #   #
About the Houston Advanced Research Center
HARC is a nonprofit research hub providing independent analysis on energy, air, and water issues to people seeking scientific answers. Its research activities support the implementation of policies and technologies that promote sustainability based on scientific principles. HARC is a 501(c)(3) nonprofit organization building a sustainable future in which people thrive and nature flourishes. For further information, contact HARC at (281) 364-6000 or visit www.HARCresearch.org. You can also connect with us via Facebook or Twitter. Like or follow @HARCresearch.
MEDIA INQUIRIES:
Lisa Gonzalez, HARC
​lgonzalez@harcresearch.org
281-364-6044
EVENT INQUIRIES:
Julie O'Toole, HARC
​jotoole@harcresearch.org
281-364-6070
Source: Houston Advanced Research Center (HARC)
Share:
---
Categories: Non Profit, Energy, Environmental
Tags: Center for the New Energy Economy (CNEE), Clean Energy, Energy, Fossil Fuels, HARC, Houston Advanced Research Center, Renewable Energy, Sustainability
---