Sullivan Solar Power Wins Excellence Award for UC Irvine Solar Project
Press Release
•
updated: Jan 16, 2020
The award-winning solar power installation is the company's second project on UCI's campus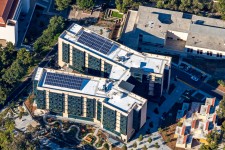 IRVINE, Calif., January 16, 2020 (Newswire.com) - The University of California at Irvine holds many accolades in sustainability, ranking number one in both the Sierra Club and the Association for the Advancement of Sustainability in Higher Education sustainable campus index. The University of California (UC) at Irvine's most recent student housing project, the Middle Earth Towers, includes a 50 kW AC solar power installation by Irvine-based firm Sullivan Solar Power. This project has received the 2019 Project Excellence Award from the Orange County chapter of the National Electrical Contractors Association (NECA).
The Middle Earth Towers are among the newest additions to the UC Irvine campus, working to fulfill their vision to create a sustainable campus. The 500-bed student housing towers also include amenities such as a dining hall, a multipurpose room, a two-story study pavilion and a fitness and recreation center.
"The Middle Earth Tower brings another LEED Platinum project to the UCI campus, already a national leader in green building and making strides toward a robust carbon neutrality by 2025 goal," said Rachel Harvey, Sustainability Program Manager for UC Irvine's Student Housing. "Our dedication to sustainability inspires and is inspired by the generations of student residents who will continue the collaborative, interdisciplinary work of building community resilience to climate change through their academics, career choices, and ways of life."
To help the campus meet its sustainability goals while accommodating a growing student population, Sullivan Solar Power was selected to install a 50 kW AC solar power system on the two Middle Earth Tower roofs. This system includes 164 high-efficiency Sunpower solar modules, as well as two 480 volt SolarEdge inverters. The installation was completed by Sullivan Solar Power's state-certified electricians and is the company's second solar power installation on campus following its Mesa Court project, which was completed in 2016 and was also recognized as a LEED Platinum building.
Recognition for this quality solar installation comes from the Orange County chapter of NECA, who announced Sullivan Solar Power's UC Irvine project as the solar category winner in December of 2019. The award recognizes the outstanding work, professionalism and ingenuity of NECA member contractors. Sullivan Solar Power has also received the Excellence Award for its installation at Petco Park in San Diego, which is the largest solar power system in Major League Baseball.
To date, the Middle Earth Towers solar power installation has already offset 28,892 pounds of carbon dioxide, which is equivalent to the planting of over 730 trees. The system has produced over 18 megawatts of power, equivalent to a small power plant, after only a few months of operation.
Source: Sullivan Solar Power