Daniel Sullivan Named San Diego's Irish Man of the Year
Press Release
•
updated: Feb 3, 2020
Founder and president of Sullivan Solar Power recognized by the Irish Congress of Southern California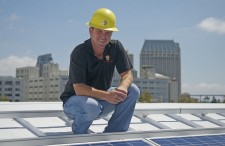 SAN DIEGO, February 3, 2020 (Newswire.com) - ​Nearly 16 years after founding Sullivan Solar Power, Daniel Sullivan has been recognized by the Irish Congress of Southern California as the 2020 San Diego Man of the Year. As a native San Diegan with Irish ancestry and a vigorous supporter of Southern California's Irish community, the recognition is an honor. Mr. Sullivan will be recognized at the 40th annual St. Patrick's Day Parade in San Diego on Saturday, March 14.
"It is one of the greatest honors I have received to be recognized by the community I care so deeply about," said founder and President Daniel Sullivan. "I know that I was able to make the impact I have made in San Diego only because my Irish ancestors paved the way for me to be here today."
This year's theme at the San Diego St. Patrick's Day parade is "Irish Building America". Daniel Sullivan founded Sullivan Solar Power in 2004, with only $2,500 in the bank while living out of a client's garage. As a journeyman electrician, he dedicated his life up until that point to mastering his trade. In 2004 two important events occurred, the birth of his son Noah and the United States' entry into the Iraq War. Inspired by the hope to create a secure future for his son, understanding that much global conflict and suffering was over energy resources like oil, Daniel realized he could pave a better future for his son, San Diego and the world through his trade.
Similarly to his Irish forefathers before him, Daniel pulled himself up by the bootstraps and worked ceaselessly. He began teaching the first photovoltaic class at the San Diego Electrical Training Institute and founded his own company, working on every job himself. Since then, Sullivan Solar Power has become a landmark business in Southern California, installing nearly 9,000 solar power and energy storage systems, including the largest solar power system in the MLB for Petco Park, the Navy, UCSD, SDSU, and many more institutions, businesses and homes.
"Our 'Irish Man of the Year,' Daniel Sullivan, has been a strong supporter of the St. Patrick's Day Parade and has contributed to our Program Book and the Irish Festival for many many years," said Thomas Cahill, the 2020 Parade Chairman from the Irish Congress of Southern California. "Our Parade honorees this year are centered around our Parade theme of the 'Irish Building America' and the construction industry. Dan is a perfect fit as not only does his solar construction company support 'Going Green' in our community, but also 'Going Green' in a big way on parade day."
Southern Californians can join the full day of celebration at the St. Patrick's Day Parade on March 14. Residents can learn more at stpatsparade.org. To learn more about how Sullivan Solar Power gives back, visit sullivansolarpower.com/quality-solar-company.
Source: Sullivan Solar Power
Tags
Additional Links