Sudsies Shares their History with Garment Care and the Wet Cleaning of Couture
Press Release
•
Mar 29, 2023
Leading dry cleaner Sudsies relies on Miele Professional sustainable wet cleaning technology for luxury brand garment care.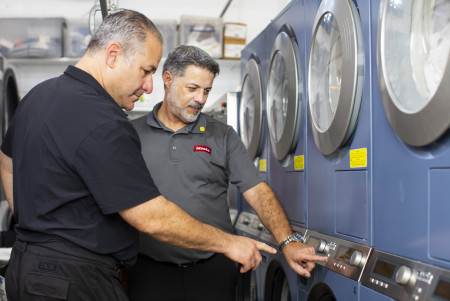 MIAMI, March 29, 2023 (Newswire.com) - Sudsies relies on Miele technology for their garment care and wants to share how they adopted this technology into their day-to-day operations. In 2008, Sudsies saw a significant opportunity to drive growth by increasing its designer garment business. While the opportunity was exciting, Sudsies' owner Jason Loeb knew it wouldn't be easy, as meeting the needs of couture customers would require the most advanced cleaning technology. Loeb's interest in European fashion houses led him to Miele, a premium European brand. When Loeb first met Paulo Rocha, Miele Professional's Head of Sales, HCS Business Unit, North America, he knew Miele would be a good fit for his quality garment care needs.
"I immediately saw that Miele's technology was a differentiator and recognized its incredible potential for me as an entrepreneur looking to grow my business," said Loeb. "Miele prioritizes educating others on the process and its history, as well as debunking myths. People in the industry think they won't be able to clean materials like leather or fur, but Miele wet cleaning can do that and more — offering a more thorough cleaning."
In 2018, Sudsies purchased its first Miele washing machine, the PW 6321 75 lbs. washing machine. Within weeks, the company added 16 more Miele machines to its roster. According to Loeb, Miele's comprehensive technical support made all the difference. "Miele takes their sales a step further and really educates their customers on the equipment and on the benefits of wet cleaning."
While Sudsies exclusively uses Miele washers, Loeb understands that wet cleaning is more than just great equipment. Successful wet cleaning requires the right combination of several factors, according to Loeb. "It's a partnership of the right equipment, soaps and softeners, and training, allowing us to clean high-end textiles in a gentle way that protects and prolongs the life of the material."
For Sudsies, the switch to wet cleaning wasn't only about the quality wash of designer clothing. The company is also focused on the sustainability of its operations and its impact on the community. As the smiley-face logo suggests, Sudsies' main goal is to make customers happy, and the team is delivering on this ambition through their eco-friendly efforts.
About Sudsies Dry Cleaners & Laundry
Sudsies is a full-service dry-cleaning company dedicated to clean clothes, clean service, and a clean environment. Sudsies has been the leading environmentally-friendly dry cleaner for two decades in Florida. With a fleet of boutiques on wheels and stand-alone stores in Miami Beach, North Miami Beach, the Design District, and Fort Lauderdale, Sudsies serves customers from Miami-Dade to Palm Beach county. For more information on the company, its philosophy, and its services, contact their offices at 1.888.898.SUDS (7837).
Source: Sudsies
Related Files