Success Stories of the Humble Paper Cup
Branded Paper Cups can go a long way. So does the history of the paper cup. Scyphus U.K. talks about a few of the anecdotal stories of the past of the paper cup.
Press Release
-
updated: Jun 16, 2017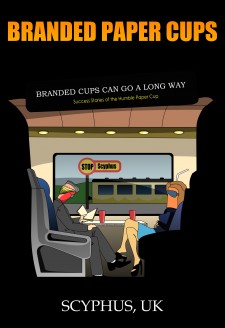 Northampton,UK, June 16, 2017 (Newswire.com) - When is a paper cup not a paper cup?
When it's a mini-billboard for a business. Or a lawsuit. Or a moving comic book.
"What?!" you say.
Most have probably never given a second thought to the humble paper cup. It's just a vessel for a morning mocha/latte/double-shot espresso, right? Something to throw away when done with self-medicating on caffeine? Wrong!
Look beyond the practical side of the paper cup and you'll find a history littered with success stories.
Here are just a few of the ways in which paper cups have changed lives…
The Garage Paper Cup
Two years ago, world-famous car manufacturer Volkswagen decided to upgrade the paper cups they offered to customers in their garage waiting rooms. They sought a design from Branded Paper Cups and were soon serving coffee in trendy new VW-emblazoned cups.
Turns out that coffee tastes better out of a VW-branded cup. At least, customers think so.
Suddenly, VW cups were a hot new trend — and Branded Paper Cups were in hot demand. Volkswagen started ordering more branded cups. And they weren't the only ones. When other high-brow automotive companies saw the cups — and the hordes of customers clutching them — they decided they wanted in on the action. Audi, Land Rover and Honda all contacted Branded Paper Cups to put in their orders. Demand for branded paper cups for car garage receptions and service customers has boomed. Today, customers all over the world are sipping from customised paper cups as they wait for their new tyres to be fitted.
The Takeaway Paper Cup
Of course, the cup-makers are only the beginning of paper cup success stories. Heard of 7-Eleven? Of course. This chain of convenience stores opened in Long Island in 1964. Besides the daily essentials of milk and bread, 7-Eleven offered hot, fresh coffee. Then they made history: they offered coffee to go. That's right: 7-Eleven was the first chain store to sell fresh coffee in takeaway cups. 7-Eleven has since expanded throughout the U.S. and the rest of the world.
The Starbucks Paper Cup
But there's one takeaway cup success story that rivals all the rest. Who hasn't wrapped their paws around a Starbucks cup?
When Starbucks owner Howard Schultz went searching for a special cup that would hold his customers' frothy beverages, he couldn't look past the paper cup. Domed lids for paper cups had just hit the market, and Solo's cup lids were the very design he wanted for Starbucks. Alas — Solo's lids were for Solo's cups. Schultz went back to the drawing board, and realised that plastic was no longer the way forward. Starbucks had to make a radical change: to paper. And thus, the world's most famous coffee brand became the most recognisable paper cup.
​The Infamous Cup
And who can forget the infamous case of Stella Liebeck and her takeaway coffee cup disaster? While not a conventional success story, it certainly threw the spotlight on the paper cup industry. Ms Liebeck suffered third-degree burns after her Styrofoam McDonald's cup spilled hot coffee onto her legs (she'd been sitting in her car trying to add cream and sugar at the time). Paper cups — and their safety precautions — were suddenly a hot topic (excuse the pun), and since then have carried emphatic warnings of CAUTION: HOT. Stella, on the other hand, was awarded $2.86 million in compensation, which is certainly some kind of success in its own right.
The Famous Paper Cup
So many have probably seen it hundreds of times and never given it a thought. Yet it's instantly recognisable anyway. This is the bizarre case of the token paper cup: one that has routinely appeared in numerous TV shows, movies and even music videos. This otherwise nondescript item is a tall white cup with an orange-brown wave design. It's appeared in Ellen, The Wonder Years, The Fresh Prince of Bel Air and even an INXS video. It's so frequently used that it's now celebrated as.... The Famous Paper Cup. It even has its own Facebook page! Check it out!
That 90s Paper Cup
What's even more successful than The Famous Paper Cup? The '90s Paper Cup! The turquoise-and-purple 'jazz' design on this cup first began showing on paper cups around 23 years ago. The classic squiggly motif was created by Gina Ekiss as part of the Sweetheart Cup Company design contest in 1989. The company was later bought by Solo Cup Company, and the design was used on paper cups everywhere. Ekiss — now a custom frame shop manager — was only recently revealed as the creator, and has since shot to internet stardom.
The Comic Paper Cup
By far the most interesting of all paper cup success stories is the Japanese artist who turned them into comic book movies. Shin Shinrashinge has created two paper cup movies by cutting up the cups and layering them so that they can be rotated in a specific order. His incredible works of art tell stories that feature backdrops, words, characters moving and doors opening.
Source: Scyphus, UK
Share:
---
Categories: Food and Beverage Manufacturing, Food and Beverage Services, Packaging
Tags: Biodegradable Paper Cups, branded coffee cups, branded paper cups, coffee culture in Europe, printed coffee cups
---