Study Results on LearningRx Personal Brain Training Improving IQ Scores by 21 Points Published on Medical News Today
Randomized Controlled Trial Originally Published in Applied Cognitive Psychology reviews LearningRx cognitive training programs
Press Release
-
Sep 30, 2016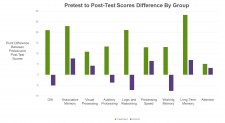 Colorado Springs, CO, September 30, 2016 (Newswire.com) - The results of a randomized controlled trial (RCT) supporting the efficacy of the ThinkRx® one-on-one cognitive training program in improving cognitive skills and IQ scores in students ages 8 to 14 years has been published on the Medical News Today website. The study showed statistically significant generalized improvements in six cognitive skills—associative memory, working memory, long-term memory, visual processing, auditory processing, logic and reasoning, and processing speed—as well as a 21-point mean increase in overall General Intelligence Ability (GIA) testing scores, an established measure of IQ. The study was also published in the September/October edition of the journal Applied Cognitive Psychology.
The study is the first of its kind to evaluate the efficacy of a comprehensive, one-on-one cognitive training program targeting multiple cognitive abilities, offering an important contribution to the knowledge base on cognitive training effects in children. It was led by Dick M. Carpenter II, PhD, University of Colorado Springs; Christina Ledbetter, PhD, Louisiana State University Health Sciences Center; and Amy Lawson Moore, PhD, Gibson Institute of Cognitive Research.
Their findings also support the use of the Cattell-Horn-Carroll (CHC) theory of intelligence in the design of cognitive training programs to ensure multiple cognitive skills are targeted by training exercises. "Not all brain training programs are alike. This wasn't a 'brain games' app.  This was a comprehensive therapeutic intervention delivered by a human being sitting across the table from the client," says educational psychologist and co-investigator Dr. Moore. "The dynamic between the client and the cognitive trainer was a critical piece in the cognitive training protocol."
This study adds to recent findings presented by clinical neuroscientist and co-author Dr. Ledbetter, which found functional brain changes on functional magnetic resonance imaging (fMRI) scans of the brain after students completed brain training with LearningRx. "I'm excited about what the changes in GIA score and other cognitive skills could mean in terms of brain connectivity, network efficiency, and overall cognitive processing," said Dr. Ledbetter.  Dr. Ledbetter's earlier fMRI findings on functional brain changes after brain training are available in LearningRx's 48-page 2016 edition of "Client Outcomes and Research Results" and will be presented along with the most recent RCT data at the upcoming Neuroscience 2016 conference in November, hosted annually by the Society for Neuroscience.
To learn more, see "Much more than 'brain games": Clinician-delivered cognitive training improves multiple cognitive skills and general intelligence in children" at http://www.learningrx.org/learningrx-rct-accepted-by-medical-news-today/.
About Gibson Institute of Cognitive Research
Gibson Institute of Cognitive Research, headquartered in Colorado Springs, Colorado, is the research laboratory created by Dr. Ken Gibson, pediatric optometrist and creator of the LearningRx brain training programs. The mission of the Gibson Institute is to conduct empirical research on cognitive training programs and assessments, to communicate the latest research findings to the education and cognitive science communities, and to inform the practices of cognitive trainers through rigorous testing of training programs and procedures in both the laboratory and ecologically valid training environments.  To learn more about the Gibson Institute, visit www.gibsonresearchinstitute.org
About LearningRx
LearningRx, headquartered in Colorado Springs, Colorado, is the largest one-on-one brain training organization in the world. With 80 Centers in the U.S., and locations in 40 countries around the globe, LearningRx has helped more than 95,000 individuals and families sharpen their cognitive skills to help them think faster, learn easier, and perform better. Their on-site programs partner every client with a personal brain trainer to keep clients engaged, accountable, and on-task — a key advantage over online-only brain exercises. Their pioneering methods have been used in clinical settings for 35 years and have been verified as beneficial in peer-reviewed research papers and journals. ThinkRx® is LearningRx's key brain training program that targets seven of the brain's core cognitive skills. Every client who is over seven years of age and in a full program trains with ThinkRx. To learn more about LearningRx research results, programs, and their 9.6 out of 10 client satisfaction rating visit http://www.learningrx.com/.
Source: LearningRx
Share:
---
Categories: Parenting, Neurology, Psychology, Education
Tags: ADHD help, brain training, cognitive training, learning disabilities, Learning Rx, LearningRx complaints, LearningRx reviews, MRI, reading problems
---