Student From Kansas University Wins Jason Kulpa Tech Scholarship
UE.co CEO Jason Kulpa Awards His Tech Scholarship to a Student at Kansas University
Press Release
-
updated: Aug 29, 2018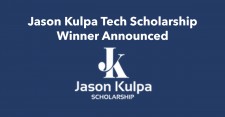 SAN DIEGO, August 29, 2018 (Newswire.com) - Founder and CEO of UE.co Jason Kulpa is pleased to announce another winner of his scholarship series The Jason Kulpa Tech Scholarship. The scholarship, created to empower students in a technology-related field of study, comes at a time where college tuition continues to rise. This year's winner of The Jason Kulpa Tech Scholarship is Pierre Moore, a student at the University of Kansas.
Moore was selected for the scholarship after writing a 500-word essay around the topic "Which technology company leader inspires you, and why?" His essay named Dr. Lisa Dyson, CEO of biotech company Kiverdi, as his inspiration to pursue a career in the biotechnology field. Moore states his respect for Dr. Dyson's biotechnology advancements but is inspired most by her background: "Dr. Lisa Dyson overcame countless obstacles to become the fourth black woman to graduate from MIT with a Ph.D. in physics; she is a beacon for minorities in the technology industry."
As an active member of the University of Kansas, Moore is involved in the biodiesel initiative and looks forward to finishing his degree in chemical engineering. "I'd like to thank Jason Kulpa for creating this scholarship and supporting students' futures," said Moore in regards to winning the scholarship.
"Celebrating the ambitions of students in the technology field is something I am very excited about," said Jason Kulpa. "I look forward to seeing the impacts Mr. Moore will have in the biotechnology industry specifically."
Read more about the Jason Kulpa Scholarship Series here.
Source: Jason Kulpa Scholarships
---
Categories: Colleges and Universities
Tags: Biotech, Jason Kulpa, Kansas, San Diego, Scholarships, Technology, UE.co, University of Kansas
---