Struggling Student Now Does Homework by Herself: 'LearningRx Brain Training Changed My Life'
Press Release
•
updated: Dec 6, 2017
Shoutout to LearningRx Pensacola Graduate Hailey who now wants to be a teacher when she grows up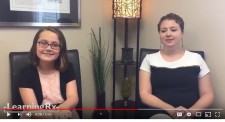 PENSACOLA, Fla., December 6, 2017 (Newswire.com) - One-on-one brain training company LearningRx is celebrating the incredible success of Hailey, a star role model and finalist in LearningRx's national Student of the Year competition celebrating the top brain training results across the country.
Hailey was diagnosed with Ideological Processing Disorder caused by trauma to her brain before her mom and dad adopted her. Her school wanted to put her into a special needs classroom. She had such short-term memory that she couldn't remember the alphabet, let alone remember sounds or three-letter words. "Homework time used to be very stressful for the entire household," says Hailey's mom. "She would bring home one simple little worksheet and it would take hours to get her to complete it. She would scream and throw things and we were all stressed out. We didn't know what we were going to do."
When I went to LearningRx, I started reading to other kids. LearningRx changed my life.

Hailey, LearningRx Graduate
After finding and enrolling in LearningRx personal brain training, Hailey made huge improvements in reading, comprehension and confidence. Now she does her homework by herself!
"When I went to LearningRx, I started reading to other kids," says Hailey. "LearningRx changed my life."
Hailey wants to be a teacher and since completing LearningRx, her parents think she can go to college and become a teacher. Hailey is now eligible to serve as a peer volunteer in the classroom to help children with autism, which she plans to do to get a head start on some "teaching" experience.
Watch her video: http://studentshoutouts.com/2017/08/07/learning-rx-mom-addresses-memory-learning-complaints/
About LearningRx
LearningRx, headquartered in Colorado Springs, Colorado, is the largest one-on-one brain training organization in the world. With 80 Centers in the U.S. and locations in 40 countries around the globe, LearningRx has helped more than 100,000 individuals and families sharpen their cognitive skills to help them think faster, learn easier and perform better. Their on-site programs partner every client with a personal brain trainer to keep clients engaged, accountable and on-task — a key advantage over online-only brain exercises. Their pioneering methods have been used in clinical settings for 35 years and have been verified as beneficial in peer-reviewed research papers and journals. To learn more about LearningRx research results, programs and their 9.6 out of 10 client satisfaction rating visit http://www.learningrx.com/.
Source: LearningRx
Related Media
Tags
Related Files
Additional Links