Straits Financial LLC Opens New York Office and Launches New Division Specializing in Structured Products for Tailored Risk Management
Press Release
•
updated: Jul 24, 2020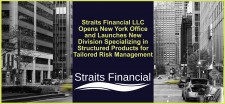 NEW YORK, July 24, 2020 (Newswire.com) - Straits Financial LLC (Straits) has established a new branch office in New York City as well as a new company sector – The Straits Financial Structured Products Division. The Structured Products team consults with brokers and their clients to devise a tailored risk management strategy for the client's unique needs. This offering uses over-the-counter (OTC) like products to create meaningful alternatives to some of the basic hedging strategies typically employed.
Managing this new division is Hilton Sheng, Managing Director – Structured Products. Sheng joined Straits Financial in 2019. He oversees the exchange-cleared OTC products. Prior to joining Straits, Sheng served as President and Branch Manager at Rosenthal Collins, SVP at RJ O'Brien Futures, and Director at Hudson Capital where he oversaw futures and exchange-cleared OTC trading and operations. Sheng brings with him 35 years of experience in the commodities industry. "I am thrilled with the opportunity to create and lead the Straits U.S. Structured Products Desk. As Straits continues to expand its offerings, the Structured Products Desk will help clients manage market volatility and control price risk through exchange-cleared, financially settled futures. The new division complements Straits' international footprint in clearing, trade execution, and voice-brokerage for derivatives well," said Sheng.
About Straits Financial Group
Headquartered in Singapore, Straits Financial Group offers a broad spectrum of derivatives and OTC products, including trade facilitation for physical commodities. Established offices include Chicago, New Jersey, New York, Shanghai, and Jakarta. Straits Financial LLC is a full clearing member of the Chicago Mercantile Exchange (CME), Chicago Board of Trade (CBOT), New York Mercantile Exchange (NYMEX), the Commodity Exchange (COMEX), CME ClearPort, Dubai Mercantile Exchange (DME) and CBOE Futures Exchange (CFE), and offers clearing access to all major global commodity exchanges. For more information, visit www.straitsfinancial.com.
DISCLAIMER: This document is issued for informational purposes only. This document is not intended, and should not be construed, as an offer or solicitation to buy or sell. Trading commodity futures and options products presents a high degree of risk, and may not be suitable for all investors. The information in this document is subject to change without notice.
Source: Straits Financial LLC
Additional Links