Straits Financial LLC Establishes OTC Exotic Products Desk
Press Release
•
updated: Aug 13, 2020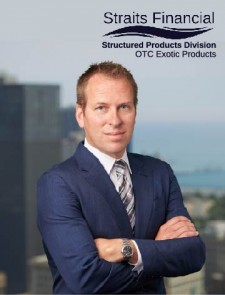 CHICAGO, August 13, 2020 (Newswire.com) - Straits Financial LLC (Straits) presents another exciting offering for its clients through the Structured Products Division – an (over-the-counter) OTC Exotic Products Desk. This new desk offers 24/7 access to OTC products designed to serve as a tailored risk management tool for clients with unique hedging needs.
The desk offers a full range of products including, but not limited to, accumulator, range, collar, and old/new crop structures, short-dated, vanilla, digital, and barrier options, strips, and swaps.
Clients can work with the OTC Exotic Products team to establish a new and customized risk management solution.
Straits is excited to introduce Corey Folske – Senior Vice President, OTC Exotic Structured Products. Folske is a highly skilled exotic OTC Market Maker and OTC Derivatives Trader bringing more than 18 years of experience to the Straits team. His deep expertise in the agribusiness and poultry sector, trading a wide variety of markets including sugar, coffee, cocoa, soybeans, oil, meal, corn, wheat, dairy, livestock, and energies, attributes to his past success. "Over The Counter Exotic Structured Products allow our clients to access tailored risk management tools that they could not otherwise utilize. We work closely with our clients to develop a risk mitigation plan by identifying their specific needs and risks in all environments. This partnership ensures a long-lasting mutually beneficial relationship between the Straits team and our clients," said Folske.
About Straits Financial Group
Headquartered in Singapore, Straits Financial Group offers a broad spectrum of derivatives and OTC products, including trade facilitation for physical commodities. Established offices include Chicago, New Jersey, New York, Shanghai, and Jakarta. Straits Financial LLC is a full clearing member of the Chicago Mercantile Exchange (CME), Chicago Board of Trade (CBOT), New York Mercantile Exchange (NYMEX), the Commodity Exchange (COMEX), CME ClearPort, Dubai Mercantile Exchange (DME) and CBOE Futures Exchange (CFE), and offers clearing access to all major global commodity exchanges. For more information, visit www.straitsfinancial.com.
DISCLAIMER: This document is issued for informational purposes only. This document is not intended, and should not be construed, as an offer or solicitation to buy or sell. Trading commodity futures and options products present a high degree of risk, and may not be suitable for all investors. The information in this document is subject to change without notice.
Source: Straits Financial LLC
Additional Links