StormForge Launches Version 2.0 of Optimize Live for Kubernetes Resource Optimization
Press Release
•
Apr 13, 2023
Intelligent, automated, continuous right-sizing of K8s applications with fast time-to-value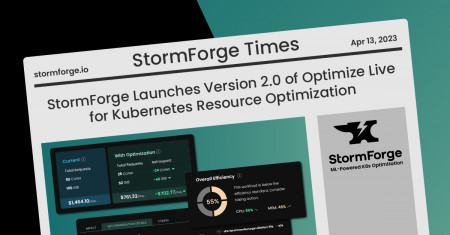 CAMBRIDGE, Mass., April 13, 2023 (Newswire.com) - StormForge, the leader in Kubernetes resource optimization, today announced the release of its next-gen platform for Kubernetes resource optimization. The version 2.0 release of StormForge Optimize Live enables organizations to continuously right-size containers running on Kubernetes with minimal setup or configuration effort.
Kubernetes has gained traction in nearly every large enterprise, but teams struggle with complexity when managing at scale. Engineers must guess at configuration settings, and over-provision to reduce the risk of application performance or reliability issues. Striking the right balance, challenging even in small environments, becomes seemingly impossible at scale for hundreds of services with usage patterns constantly changing. The result is extensive cloud waste and unsustainable growth in cloud costs.
The new release of StormForge Optimize Live helps organizations reduce Kubernetes resource usage and associated cloud costs by 50% or more on average, without risking performance or reliability. Key features include:
Fast time-to-value - StormForge Optimize Live v2 lets users get started rightsizing applications with a helm deployment and a few clicks. Once the controller is installed, workloads will automatically be consumed and recommendations provided within just a few hours.
Intelligent right-sizing - StormForge machine learning analyzes workload usage patterns to provide CPU and Memory recommendations to ensure workloads are neither over- or under-provisioned. Additionally, Optimize Live automatically detects the presence of a Horizontal Pod Autoscaler (HPA) and recommends target CPU utilization to enable bi-dimensional autoscaling.
Business impact - Optimize Live v2 includes a new set of reports that make it easy for users to understand the business impact of recommendations, including aggregated resource impact, estimated cost savings, and reliability improvements.
Built for Scale - The new version of Optimize Live makes deployment of recommendations effortless, even in large-scale environments. Users can either export YAML directly to deploy through their CI/CD tool of choice or allow Optimize Live to deploy the recommendations automatically.
"With the new imperative to reduce cloud costs and do more with less, Kubernetes optimization has become more urgent than ever before," said Yasmin Rajabi, VP of Product for StormForge. "We believe right-sizing should be simple, and we built Optimize Live v2 with that as our core mission. We've eliminated the barriers to achieving significant cloud resource and cost savings while ensuring the performance and reliability of critical cloud-native applications at scale."
Ed Brennan, Chief Architect at Acquia, said, "Like most companies, we know that our cloud costs are too high, but trying to optimize across thousands of workloads has not been feasible. We are excited about the new release of StormForge Optimize Live, because it allows us to ensure applications are continuously and intelligently right-sized with very little effort. Additionally, the new dashboards allow us to clearly demonstrate the value we're delivering to our executive team."
The new release of StormForge Optimize Live is now generally available. Join our launch webinar to see a demo and hear from Ed Brennan about Acquia's experience with StormForge. Please contact StormForge for more information or to try it in your own environment.
About StormForge
StormForge brings together world-class data scientists and software engineers to enable breakthrough IT and operations efficiency. StormForge is set apart by its unwavering focus on building AI-powered software products that are designed to help people, not replace them. The StormForge platform uses machine learning to significantly reduce cloud costs and improve reliability by right-sizing Kubernetes application resources, automatically and continuously. StormForge was founded in 2016 and is based in Boston and Washington, DC. Learn more at www.stormforge.io.
Source: StormForge