Stop Morning Heel Pain With Medi-Dyne ProStretch NightSock
Medi-Dyne introduces ProStretch® NightSock™ with exclusive toe support as newest product to treat heel pain due to plantar fasciitis, Achilles tendonitis and more.
Press Release
-
updated: Oct 1, 2018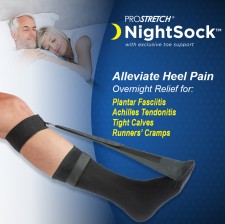 COLLEYVILLE, Texas, October 1, 2018 (Newswire.com) - Medi-Dyne, a leading producer of innovative pain prevention "Products that Keep People Moving™" announces the introduction of ProStretch® NightSock™.  
The patent-pending ProStretch® NightSock™ helps alleviate heel pain associated with plantar fasciitis, Achilles tendonitis, calf muscle cramps and runners' cramps. By keeping the foot in a slightly flexed position, it comfortably elongates the muscles and soft tissues of the calf and foot, speeding up recovery while sleeping.
ProStretch NightSock Encompasses:
Exclusive toe support – provides enhanced toe comfort and improves performance.
Adjustable straps – allows for stretch and flex of foot to be progressed over time to prevent discomfort and injury.
Short sock made of soft, lightweight, breathable material – keeps foot and leg cool during the night.
Low-profile hook & loop fasteners – won't snag sheets and blankets.
"As the population becomes more active and is active longer, more diagnoses of ailments such as plantar fasciitis are occurring. ProStretch Nightsock builds on our heritage of developing products that set new standards for performance to help 'Keep People Moving' and doing what they love to do," stated Craig DiGiovanni, vice president sales and marketing, Medi-Dyne Healthcare Products.
Certified health professionals have tested and evaluated ProStretch products to ensure they provide the best stretch, the most pain relief and are a comfortable solution for lower leg stresses and injuries.
About Medi-Dyne Healthcare Products
Medi-Dyne is a global company dedicated to providing easy-to-use pain relief and prevention products that really work. Medi-Dyne's contributions include over 60 patented foot care, knee, blister care, stretching and strengthening innovations marketed under the well-recognized names of brands of 2Toms®, Cho-Pat®, CoreStretch®, ProStretch®, RangeRoller™, StretchRite® and Tuli's®. Medi-Dyne.com
Contact:
Mandy Paine                                                                           Craig DiGiovanni
(817) 251-8660 ext. 225                                                        (817) 251-8660 ext. 214
Mandy@medi-dyne.com                                                       Craig@Medi-Dyne.com
Source: Medi-Dyne
Share:
---
Categories: Orthopedics, Rehabilitation and Physical Therapy, Chiropractic
Tags: achilles tendonitis, foot care, heel pain, Night Sock, plantar fasciitis, ProStretch
---
Related Files
Additional Links