Medi-Dyne Introduces 2Toms® GripShield® Grip Enhancing Gel
Announcing GripShield, a brand new grip enhancing gel.
Press Release
-
Jul 28, 2016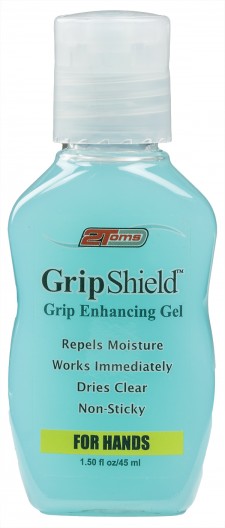 Colleyville, Texas, July 28, 2016 (Newswire.com) - Medi-Dyne, a leading producer of innovative pain prevention products announces the introduction of 2Toms® GripShield®.
2Toms GripShield is formulated to work fast to keep hands dry and enhance the grip of anyone who is concerned about wet sweaty hands including many athletes and those who work with their hands. Whether it is before or during activity, 2Toms GripShield delivers results by quickly drying hands and creating a moisture barrier to improve grip and enhance performance. GripShield can even be used inside of gloves, and may help prevent odor buildup as well! GripShield applies to a multitude of sports and activities that include, but are not limited to; tennis, baseball, basketball, bowling, cycling, football, golf, gymnastics, hockey, skiing, softball, mechanics, industrial work, or any activity in which a firm, dry grip is essential.
"GripShield is a natural extension of our 2Toms line of innovative products that simply and effectively protects and enhances people's ability to be at their best," states Craig DiGiovanni Vice President of Medi-Dyne. "GripShield will also be taking us in to new markets expanding the reach and exposure of all our brands."
100% Guarantee: 2Toms GripShield comes with the 2Toms 100% guarantee. Users, if not completely satisfied will receive a full refund.
2Toms® products are made in the U.S.A.
About Medi-Dyne Healthcare Products
Medi-Dyne is a global company dedicated to providing easy-to-use pain relief and performance enhancing solutions that ensure peak performance. Medi-Dyne's contributions include over sixty patented foot care, knee, blister care, stretching and strengthening innovations marketed under the well-recognized names of brands of: 2Toms®, Cho-Pat®, CoreStretch®, ProStretch®, RangeRoller™, StretchRite®, Tuli's®.
                                                                         ###
Contact:
Mandy Owens
Marketing Manager
(817)251-8660
mandy@medi-dyne.com
Source: Medi-Dyne Healthcare Products
Share:
---
Categories: Sports, Fitness, and Recreation, Basketball, Baseball, Golf, Gymnastics, Tennis, Sports-related Business
Tags: 2Toms, GripShield, Medi-Dyne, New Product
---